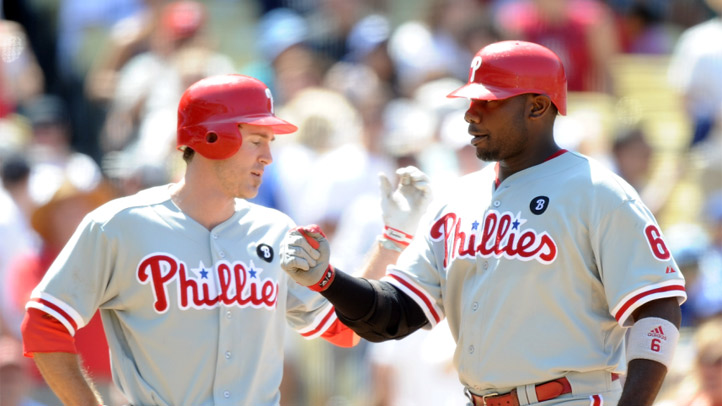 Ryan Howard and Hunter Pence homered as the Philadelphia Phillies overcame an early six-run deficit and beat the Los Angeles Dodgers 9-8 Wednesday for a three-game sweep.
The Phillies won for the 12th time in 13 games and completed a 9-1 road trip. They improved baseball's best record to 77-40 _Philadelphia is 37 games over .500 for the first time since 1977.
Down 6-0 after three innings, the Phillies rallied and eventually scored four times in the sixth for a 9-7 lead. Howard's 25th homer was a tiebreaking, two-run shot with two outs.
Kyle Kendrick (7-5) pitched one inning of relief for the win after replacing starter Vance Worley.
Ryan Madson, the sixth Phillies pitcher, got three outs for his 22nd save in 23 attempts, giving up a run on a groundout by Juan Rivera before retiring pinch-hitter Rod Barajas on a flyball with the tying run at first. It was the first time in Madson's career that he saved every game of a three-game series.
Dodgers starter Chad Billingsley couldn't get out of the fifth inning after getting staked to a 6-0 lead, but it wasn't entirely his fault. Three of the five runs he gave up in his 4 1-3 innings were unearned _ two of them in the fifth, after a fielding error by third baseman Casey Blake on a potential inning-ending double-play grounder by Pence that allowed Shane Victorino to score from second base.
That was all for Billingsley, who slammed his glove on the bench after returning to the dugout. Hong-Chih Kuo came in and Raul Ibanez drove in Howard with a groundout, narrowing Philadelphia's deficit to 6-5.
The Phillies began their comeback in the fourth after Billingsley walked Howard for the second time to open the inning. Pence hit his 14th homer of the season and third since joining the Phillies in a July 29 trade with Houston. Michael Martinez then reached on a two-base error by first baseman James Loney and scored on Worley's single.
Loney hit an RBI double in the fifth off Kendrick to make it 7-5. But Chase Utley tied it with a two-run single in the sixth against Blake Hawksworth (2-3) and Howard drove the right-hander's 2-1 pitch into the lower seats in the left-field corner, raising his NL-leading RBI total to 91.
Billingsley, who gave up seven hits without striking out anyone, had to struggle to record his first out as leadoff man Jimmy Rollins ended a stubborn 15-pitch at-bat by fouling out to catcher Dioner Navarro.
Worley then threw 38 pitches in the bottom half as the Dodgers batted around and took a 5-0 lead.
Worley walked three batters, including Blake and Andre Ethier with one out, and Matt Kemp singled home a run to end a personal six-game RBI drought. Rivera then drove the rookie's 3-2 pitch to left-center for his first homer since connecting on the first pitch he saw with his new team on July 15 at Arizona. Loney walked and came all the way around on a double by Navarro _ who was tagged out in a rundown just before Jamey Carroll tripled.
The Dodgers increased their lead to 6-0 in the bottom half on Navarro's sacrifice fly.
Worley gave up six runs and seven hits in four innings and struck out six, after coming in with an 8-1 record. The 23-year-old right-hander's ERA jumped from 2.35 to 2.85 in his sixth start since he was recalled from Triple-A Lehigh Valley for the fourth time this season.

---
Fan, follow and download: Get the latest from NBCPhiladelphia.com anytime, anywhere. Follow us on Twitter, Facebook and NBC Philadelphia. Sign up for our sports newsletter. And, get breaking news delivered right to your mobile phone -- just text PHIBREAKING to 639710 to sign up. (Message and data rates may apply.)
Copyright AP - Associated Press