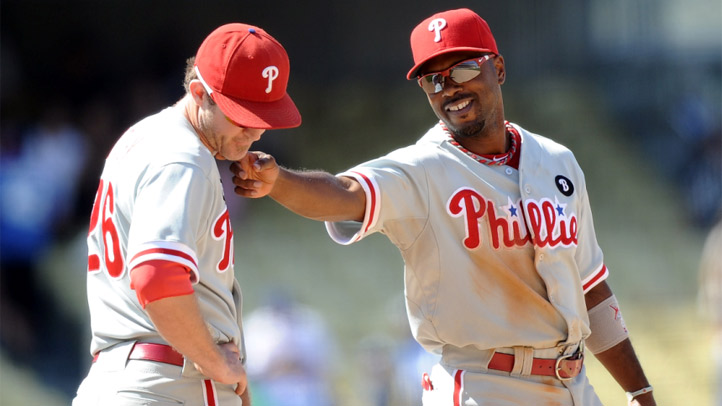 It's been quite the season for the Philadelphia Phillies. Not only are they owners of the best record in the Majors and a comfortable 8.5 game lead in the division, but as of late, they are winning games with such ease, thanks to a combination of their newly relentless offense and a pitching rotation that was thought by many to be historic.

And speaking of history, that's just what the Phillies accomplished on Wednesday, when they downed the Los Angeles Dodgers in a stunning come-from-behind victory to finish off the series sweep while capping a ten game road trip in which they went 9-1, marking it the first time in the history of the franchise that they finished a ten game road trip with nine wins.

It was during this road trip, where they mashed and pitched their way past their opponents, that the Phillies went from being "a great team" to "the out and out best team in the Big Leagues." And at this point, it's not even close.

Not only did they win nine out of ten – on the road, of all places – they outright dominated their opponents. Granted, the Rockies, Giants and Dodgers aren't exactly scary, but they are professional baseball teams with the capacity to cause a headache for contenders who were hoping to coast through an easy few series.

They kicked off the road trip in typical Phillies fashion when they rallied in the late innings of the series opener in Colorado, before breaking out the bats in the next two games to complete the sweep of the Rockies.

It was off to San Francisco, where they tuned up the Giants' pitchers by taking three of the four games against the defending World Series champs, which is no small feat considering their relative lack of success in San Fran.

The last leg of their road trip, as well as a stretch where they played 20 games in 20 days, took them to Los Angeles, where they faced off against the Dodgers, who have proven to be equally inept on the field and in the checkbook. They took the first two games of the series behind dominating pitching performances from Roy Halladay and Cliff Lee, but like the first game of the road trip, they'd win it in dramatic fashion thanks to a late rally that saw them overcome an early six-run deficit to escape the City of Angles with the sweep.

If you had to condense the Phillies season into a week's worth of games, then this road trip might just be the way to do it, as it showcased exactly what the 2011 Phillies are about: Pitching, pitching, and pitching, but with enough offense to mount a comeback and to leave the opposing team in a trail of dust.

And October can't come fast enough.