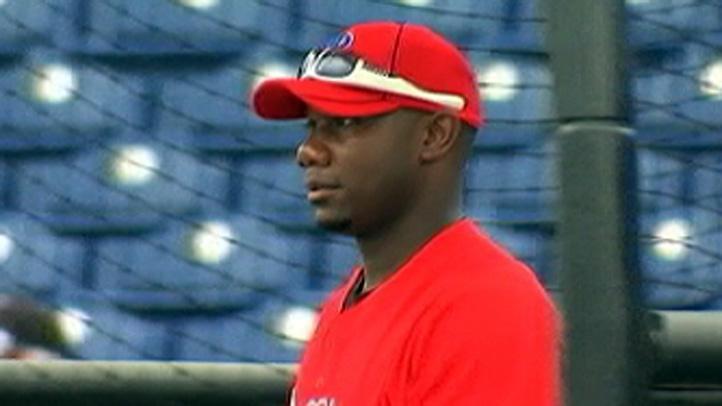 It's almost March, and unfortunately, that means we are still a ways away from meaningful baseball. And, unless you are the type of person who enjoys some split-squad action on a Wednesday morning, then spring training is just a long, drawn-out tease.
Fortunately for you, we've compiled the weekend's best (or, only) stories concerning your Phillies. You'll laugh, you'll cry, you'll kill 10 minutes at work. Enjoy.
Ryan Howard Had a "Setback:" Or maybe not. It really depends on who you ask. On Saturday, manager Charlie Manuel said that Howard had a setback, a claim that was quickly rebuffed by GM Ruben Amaro Jr. Whatever the case may be, the big man had his left Achilles checked out after an open wound appeared at the site of his surgery. From all accounts, this is pretty common, and his check-up was fairly routine. Prior to that, Howard was taking infield practice, and was reportedly driving balls during batting practice.
The big takeaway: Let's not rush Ryan back into action, because, in the grand scheme of things, having him back at the end of May isn't all that better than having him back in the middle of June. The Phillies already dodge a bullet if they get him back by the All-Star Break, so their luck should not be pressed. (via Philadelphia Inquirer)
Mike Schmidt Reports to Camp: The Hall of Fame third baseman, who will go down in the books of being the greatest Phillie of all time, was in camp on Monday morning serving as a hitting instructor. This is fairly standard practice for Michael Jack, who has been imparting his wisdom to the younger generation of Phillies for some time now.
I like to think that Schmidt will keep showing up to camp, even long after he lacks the ability to put together a decent swing, at which point the hitters will just humor him. I can picture it now, a 75-year-old Mike Schmidt telling a 37-year-old Domonic Brown (who, by that time, is a nine-time All-Star, four-time MVP and two-time Grammy Award winner) that he is holding his hands too high. And Dom, he's cool, so he just goes "aw man, you're right, Schmitty." Then he laughs, and Schmidt laughs, and we all become best friends. (via Philadelphia Inquirer)
Danys Baez Retires: The former Phillie called a career on Monday afternoon, after playing 10 years in the Majors. He spent the bulk of his career as a relief pitcher, and had a solid run as the closer for the Baltimore Orioles from 2003-05, where he rang up 96 saves with an ERA of 3.42.
To Phillies fans, he'll forever be known as the guy that Amaro (inexplicably) gave a two-year contract before the 2010 season. In 80 games with the Phils, Baez had a robust ERA of 5.81, a K/9 rate of 4.9, and an ERA+ of 69, which is a performance that most baseball scholars would refer to as "not good."
The high point of his two seasons in red pinstripes occurred on May 25 last season when he pitched five shutout innings in the 19-inning marathon game with the Cincinnati Reds. It was about as selfless a performance as you'd ever see from a below-average relief pitcher, but it nonetheless earned him some major points among the Phillies faithful.
Despite his lack of contributions in Philly, Baez has been referred to as one of the nicest guys in the game, ad nauseum. Good, I like that. To boot, he has himself a nice little nest egg to live off of, thanks to career earnings just north of $40 million. (via Ken Rosenthal)
Cliff Lee Is A-OK: After skipping a throwing session last week due to some soreness in his side, Lee took the mound on Sunday, and was no worse for the wear as he tossed batting practice. Whew. That was a close one. But, to be fair, most players are probably dealing with soreness right about now, as they work the rust off of their winterized bones.
But really, the last thing this team needs is one of their aces coming up lame, because the difficulty setting on this season is already set to whatever the baseball equivalent of "All Madden" would be. All Ruth? All Selig?
Regardless, the fact that this team's success hinges upon the strength of their pitching means that every scratch or bruise to Roy Halladay, Cole Hamels or Lee is going to send the fans into a panic attack. It's never easy. (via MLB.com)