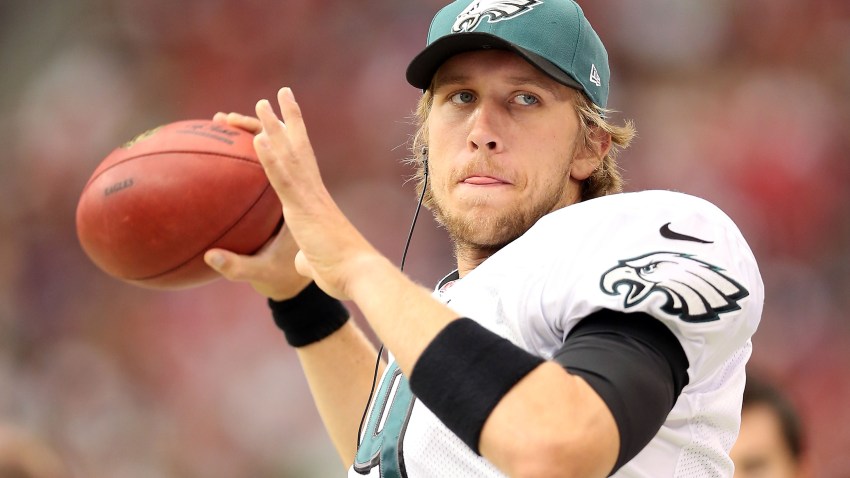 There's a growing chorus of voices in Philadelphia who aren't satisfied with Juan Castillo's ouster. They want more. Specifically, they want Nick Foles to play. Especially after another bad game from Michael Vick.
The sentiment is easy to understand. Michael Vick was supposed to improve in 2012. Instead, he regressed. The high-flying days of 2010 have long passed. People see a flawed quarterback who (entering Sunday's Falcons game) had thrown too many interceptions (3.5 percent of pass attempts), fumbled the ball too much (16 percent of all runs/sacks), and couldn't find the open receiver (59 percent completions). His touchdown percentage has plummeted along with those mistakes (3.5 percent of attempts), and at 32 years old, there's not much upside to look forward to.
Foles, on the other hand, represents hope. He's young and unproven, and every mistake Vick makes causes people to think it's time to give the rookie a chance. Perhaps the best example of someone laying out a case to ditch Vick and start Foles is friend of the blog Jimmy Kempski. He wrote an extended breakdown of Vick's failings, many of which I agree with. However, this part stuck out to me:
In other words, playing behind a bad offensive line, and playing well behind a bad offensive line, is nothing new to Nick Foles. Obviously, there's a big difference between the Pac 10 and the NFL, but at least Foles knows a thing or two about the value of getting the ball out quickly when you don't have ideal protection up front. At this point, I trust Foles to get the ball out quickly far more than I trust Michael Vick, even without having seen Foles play a single meaningful NFL snap.

A switch to Foles would almost force the Eagles to transition to more of a short to intermediate passing attack, which has actually been more successful when they've gone that route with Michael Vick this season. In theory, the Eagles could just move to a short or intermediate passing attack with Vick, although I see that development as an unlikely one. But even with a shorter passing attack, again, I trust the rookie to make better pre-snap reads than I do the 32 year old vet who still has "potential."
Frankly, I don't buy Jimmy's analysis. To me, it reads as overly hopeful and even naive. Jimmy says that the Eagles would change the offense, something that Marty Mornhinweg has already done. And as bad as Vick has been, it seems unlikely that a rookie could step in and immediately do better just because he played with a bad line in college. He's going to survive an offensive line that often looks like the worst of Andy Reid's tenure? Vick has difficulty making pre-snap reads after a decade in the NFL, and a rookie right out of a college spread system known for simple reads is going to pick that up immediately?
​Again, I understand the hope. Foles played very well in the preseason. He completed 40 of 63 passes for 553 yards, six touchdowns and two interceptions. I praised him heavily at the time:
I was particularly skeptical on draft day, but in two games Foles has looked better than any Eagles backup since Kevin Kolb's two starts in 2009. I'm no quarterback guru, but one of the things that stands out about Foles is his complete lack of fear (something that seems to be dooming Kolb in Arizona). His pocket awareness, perhaps aided by his 6-foot-6 frame, is fantastic, which enables him to move around fluidly and deliver crisp passes into tight spots. If he can keep this up, there's no question he's a better option than Mike Kafka.
​But if preseason results were everything, Philip Hunt would be leading the NFL in sacks right now. I went back and pulled the preseason numbers for the five rookie quarterbacks who have started for their teams this year. As a group, they did fairly well: completed 58 percent of their passes at 6.8 yards per attempt, throwing TDs 3.8 percent and INTs 1.7 percent of the time. Most of the numbers are middling, but the interception percentage is especially good. For reference, that's about where Vick was in 2010.
So how did those preliminary results translate into the regular season? Completion percentage and yards per attempt weren't affected, even ticked up slightly through seven games (59 percent and 7.1 yards). That's pedestrian at best, but could be acceptable if they weren't making mistakes. Unfortunately, that's not the case. Interception percentage spiked to 3.0 percent once the curtain was lifted, while the touchdown percentage fell to 3.2 percent.
No one should be surprised by the drop off. (And, in fact, it would be much bigger if not for Robert Griffin III's rapid ascension to greatness.) In the preseason, these rookies face vanilla defenses, often strewn with back ups. When the games start to count, defensive coordinators can dial up all sorts of coverages and blitzes that the QBs have never seen before. Over the last five years, rookie quarterbacks have completed just 57 percent of their passes for 6.6 yards per attempt, with a 3.2 percent TD rate and a 3.6 percent INT rate. They've had an average DVOA of -20.3 percent. Not good.
Does any of this mean that Nick Foles can't be good? Not at all. ​You can find examples of rookies, like RGIII, who excel from the start. But that's the exception rather than the rule. When he was drafted, no one expected Foles to get anywhere close to the field this year. He showed up big in the preseason and obviously the coaches were convinced enough to give him the backup job. But one good preseason does not an automatic QB upgrade make. Fans should temper their enthusiasm for Foles and assume, until proven otherwise, that he would suffer through a mostly mistake-prone rookie season.
​That's the bottom-line, but it's not the end of the argument. There is a case to be made for swapping Vick out for Foles -- just don't predicate it on Foles being some sort of miraculous upgrade because he played behind a bad line in college. The real case has to be made based on Vick's play, going back to those numbers I cited at the top. Vick is still better than the average rookie QB at pretty much every metric, but the difference is diminishing. That's the line you should keep your eye on: