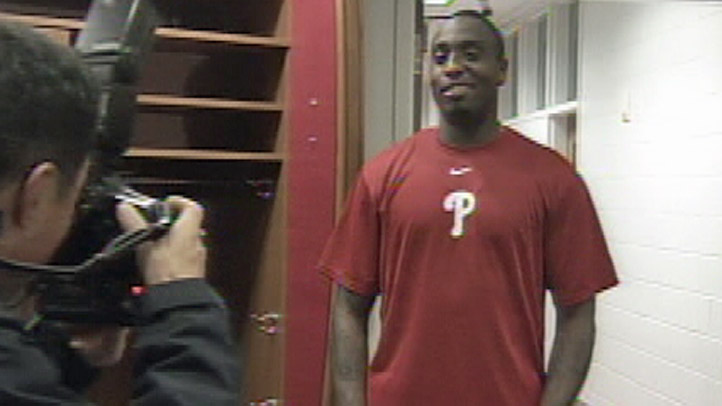 We here at Philthy Stuff are counting down the New Year's resolutions of each member on the Phillies and what they can do to guide this team back to October. Next up, Dontrelle Willis.
When Willis signed with the Phillies back in December, I really didn't know what to think. At first, I was convinced that GM Ruben Amaro, Jr. traveled back to 2005, kidnapped Willis before he completely lost his effectiveness, and then brought him back to present day to re-form The Four Aces. Or, that he had too many martinis one evening and callously said "you know what, I bet I can turn Dontrelle Willis back into an ace" before picking up his cell phone and carelessly signing the lefty to a contract.
Or, maybe he just thought he could be a good relief pitcher. Yeah... probably that one.
While it's true that Willis is merely a shell of the pitcher that won the 2003 Rookie of the Year and had a four-year stretch at the start of his career where he went 58-39 with a 3.44 ERA, it's also true that he isn't the same guy that took a nosedive into sub-mediocrity over the next four years, when he notched a 5.81 ERA over his next 62 starts, where he walked nearly as many batters as he struck out.
The reality is that the current D-Train is stopped somewhere in the middle of those extremes. He isn't going to dominate hitters like he used to, but he isn't going to walk seven batters per nine innings, either. At least, let's hope not.
For that reason, Dontrelle really only has one thing to focus on in 2012.
Lefty-on-Lefty: Ultimately, Willis' success is going to be largely dependent on how Charlie Manuel sees fit to use him. If he uses him as a true left-handed specialist, then Willis should be very effective, as left-handed batters hit .127 off him in 2011. However, misusing Willis by pitting him against right-handed hitters could spell doom, as they hit more than .300 against the lefty last season.
Willis has only made three relief appearances in 205 career games, so we are dealing with a small sample size of data. But overall in his career, Dontrelle's held left-handed hitters to an OPS more than 225 points lower than right-handed ones. So, at the very least, we can assume that he keeps up with that trend.
This move also limits the usage of Antonio Bastardo, who was not only the lone lefty in the pen for much of last season, but also pulled double duty as Ryan Madson's set up man. With Willis in the mix, Charlie can more effectively mix-and-match his relievers in the late innings while simultaneously preventing Bastardo from getting run into the ground in mid-August.
With a team built around pitching, it's incumbent upon the guys in the 'pen to be as effective as possible, and that is going to come down to the guys like Willis, who will no doubt be called upon in a tight spot in the late innings.