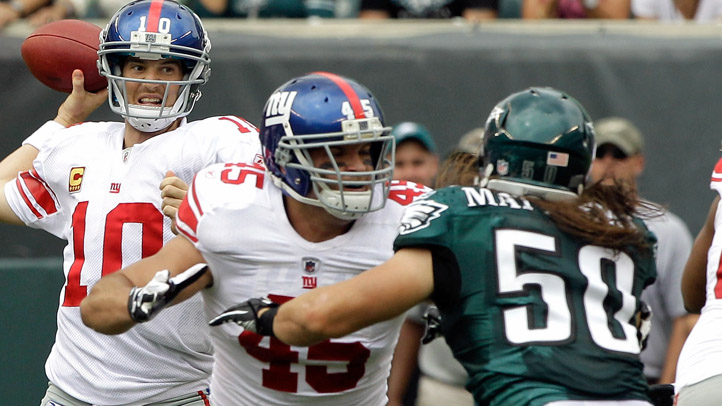 Last week, rather than replace any of their young linebackers, the Eagles coaches rearranged them. Jamar Chaney slid into the middle, Casey Matthews took over on the weakside and Moise Fokou returned to the strongside spot that he played last season.
Unfortunately, there were still far too many mistakes in the Eagles' Week 3 loss to the Giants. But the linebackers thought there was improvement.
Matthews said he felt more comfortable at his new position, the same one he played at Oregon. "Obviously, the run calls I felt we did a good job with today," he said. "Other than one draw play that they broke."
But Matthews did admit that the coverage assignments were "a lot different" than when he was in the center of the field. The Giants scored their first touchdown on a long pass to Brandon Jacobs when Matthews didn't react to the play in time.
Brian Rolle, another rookie, substituted for Matthews on most obvious passing downs and showed good coverage instincts when he broke up a pass down the left sideline. Whether he supplants Matthews on more plays going forward remains to be seen.
Chaney, the new middle linebacker, also said he felt more comfortable during Sunday's game. He resisted any explanation other than that the defense needs to step up and make plays.
"We going to continue to get better as a linebacker group, and we're going to continue to work hard," Chaney said. "By the time the season's over, we're going to consider ourselves one of the best linebacker groups in the NFL."
Eagles fans may not be so confident after the disheartening performance they saw out on the field Sunday.