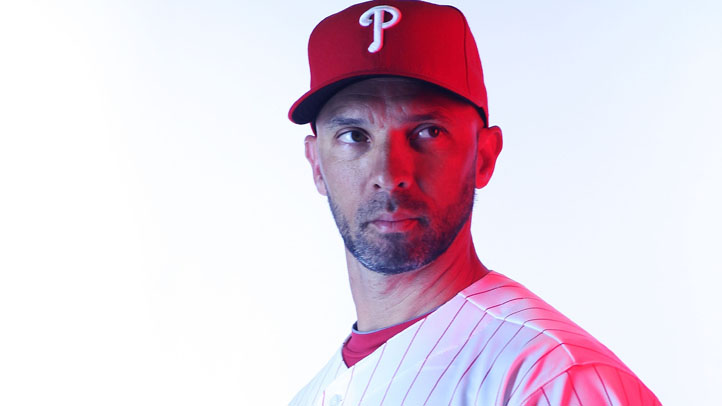 Raul Ibanez stopped over thinking and started hitting.
Roy Halladay struck out 10 in seven sharp innings, Ibanez stayed hot with a homer and three RBIs, and the Philadelphia Phillies completed a three-game sweep with a 7-3 victory over the Nationals on Thursday night.
Ibanez finished with three hits and is 8 for 11 with five extra-base hits since snapping an 0 for 35 slump.
"Hitting can be counterintuitive sometimes," Ibanez said. "You think it's better to swing harder, but it's not."
Phillies manager Charlie Manuel often refers to Ibanez as a "worrier" who works tirelessly to overcome slumps and often overanalyzes his swing.
Whatever he's doing now is working just fine.
"He's got a shorter swing, quicker bat, he's staying on the ball, being selective," Manuel said. "The biggest thing is he's getting hits."
Halladay, the reigning NL Cy Young Award winner, allowed two runs and six hits to win his 10th straight decision against the franchise from Washington and Montreal. Halladay (5-1) has won 13 consecutive starts against the NL East.
"We seem to score a lot of runs when I pitch against them," he said.
John Lannan (2-4) got roughed up, allowing seven hits and six runs in two-plus innings to fall to 0-10 against the Phillies.
It was the first time since 1929 a game featured one starter with a winning streak of nine or more against a team while the other starter had a losing streak of that length against the opponent. Hall of Famers Lefty Grove and Red Ruffing pitched in the previous one.
The NL East-leading Phillies have won 11 of 14 and are tied with Cleveland for the best record in the majors at 21-9.
The Nationals hadn't been swept this season.
"We battled against Halladay, had some good at-bats and made him work for it," Nats manager Jim Riggleman said.
Jimmy Rollins got the Phillies started in a six-run third with a leadoff single. Victorino then hit a high drive down the left-field line that appeared headed foul, but it hooked several feet over into fair territory and landed a few rows deep.
Lannan turned after hanging an 0-1 slider and shouted, "Get foul, get foul, get foul!" Things didn't get any better for the lefty.
Placido Polanco singled, Ryan Howard walked and John Mayberry Jr. ripped an RBI double. Ibanez then lined a two-run double down the right-field line to chase Lannan. Brian Broderick came in and allowed an RBI single to Wilson Valdez that made it 6-0.
The Nationals scored twice off Halladay in the fourth. Wilson Ramos hit an RBI single to score Jayson Werth, who led off with a single. Ibanez made a perfect one-hop throw home from left field that beat Werth, but he slid under catcher Dane Sardinha's tag. Ian Desmond's sacrifice fly drove in the second run.
Ibanez connected off Todd Coffey in the fifth, hitting a 431-foot shot into the second deck in right-center to make it 7-2.
"It's definitely freer," Ibanez said of his swing. "I'm trying to do less, trying to stroke."
Copyright AP - Associated Press