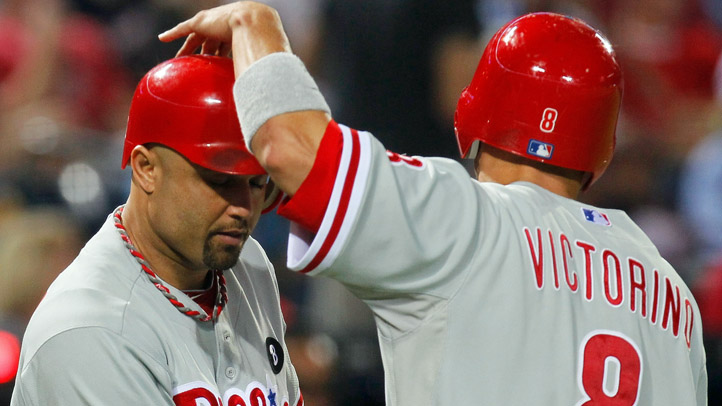 Concerned about the Phillies offense? Well, if it's any comfort to you, you aren't alone. Jonah Keri of Grantland took a look at the Phillies ravaged infield, crunched a few numbers, and found that the Phillies might have the worst offense in baseball this season.
Baseball Prospectus' PECOTA projection system forecasts the Phillies to score just 674 runs (under 4.2 per game), fewer than any other team in the East and 30 fewer than the fourth-place Nationals. It's worse than that, though. Of the teams outside the East expected to be more offensively anemic, all but two (the lowly Pirates and really, really bad Astros) play in significantly tougher parks for hitters.
Last year, the Phillies scored 713 runs, which was the worst total among all division winners. You might think that an even worse run output this season would result in the loss of a division crown, but let's not be too hasty. The PECOTA projection of 674 runs is still better than last season's run output of three other NL East teams: Atlanta, Florida (now Miami), and Washington. Only the Mets (!) scored more runs than that (actually, they outscored the Phillies as well last season), and we all know what bad shape that team is currently in.

The problem is that Washington and the new Miami Marlins are both poised to improve, thanks to offseason acquisitions (Jose Reyes in Miami) and young player development (Bryce Harper, who figures to be promoted from the minor leagues in about a month or so). Their runs totals figure to go up, while the Phillies' run total figures to go down. That's not a good trend.

And yet... Such is the general public's unshakable faith in Doc Halladay that many people are still predicting that this team will still thrive. ESPN (which owns Grantland) has the Phillies reaching the World Series and losing to the Rays. But even if the Phillies make it that far, it's becoming more clear that they're gonna need every single run they produce. It's not exactly loads of fun to watch an offensively inept baseball team that strands runners and hits into double plays. Phillies fans are already beginning to steel themselves for a tough slog. It may end up all right, but it ain't gonna be pretty.