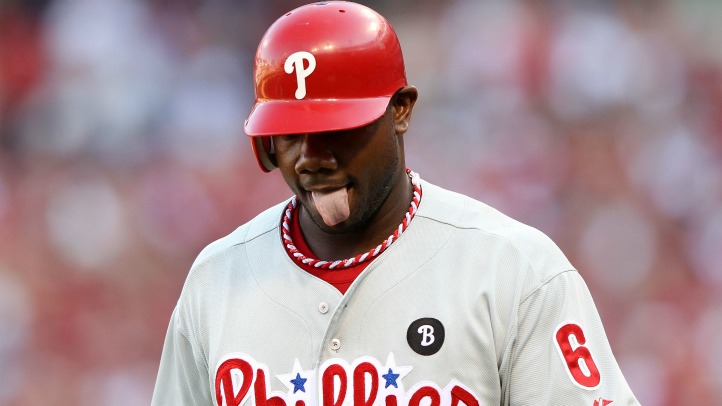 The Phillies scored 15 runs in the first 11 innings of their series with the Cardinals.
They've scored just three runs in the last 16 innings. All three of those runs came on one swing of Ben Francisco's bat in the seventh inning on Tuesday night which means that the team has been shut out in 15 of the last 16 innings.
We all know that the Phillies offense is capable of falling into disrepair from time to time, but this is a bit extreme even for them. It's not like the team is putting together rallies and failing to finish them off. Since the second inning of Game Two, they have put multiple runners on base just once without the help of intentional walks and it probably doesn't need to be said that Francsico's hit is the only one they've managed with runners in scoring position.
Obviously there's room for improvement, although any complaints about the Phillies offense have to be tempered by the fact that they've been dealing with these issues all season without losing very many games. Their offense has relied on sudden bursts of power for quite a few years now, so the fact that it has turned that way once again shouldn't fill anyone with panic.
That doesn't mean they can't worry, though. You need only remember back to last year's NLCS when the Phillies waited and waited for the three-run home run that never arrived. These Cardinals don't have quite the same staff as the Giants had last October, but it is good enough to dance around the big blast if the Phillies aren't going to string together rallies at any point.
Even with Roy Halladay looming in Game Five, ending the series now is in everyone's best interests. Baseball is a game where strange things can happen over the course of nine innings regardless of the names on the back of the jerseys. Such games are best avoided at all costs.
Unfortunately, there's no switch to flip and no magic elixir to pour over the bats to make them more potent than they've been in the last two games. There's just the knowledge that the Phillies need to do more offensively if they want to close this thing out on Wednesday.