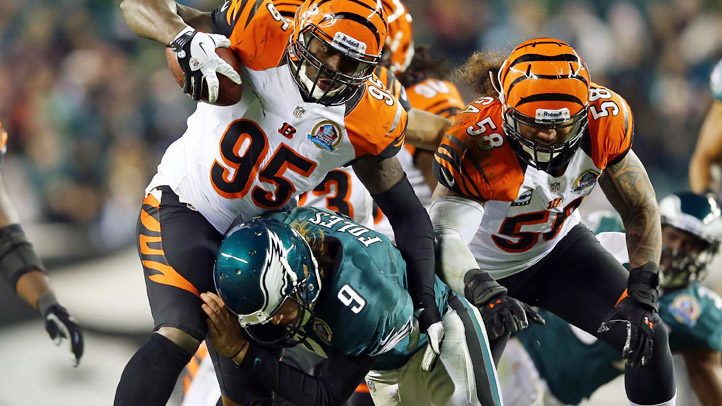 Question:
How many snaps does it take to turn a three-point lead into a 21-point deficit?
Answer:
4 -- if you're the Eagles against the Bengals Thursday night.
With 5:58 left in the third quarter and with the Eagles leading by three, the wheels fell off for Nick Foles and the Birds offense.
First, Foles under threw an ill-advised pass intended for Jeremy Maclin that fell into the arms of Leon Hall instead. The Bengals turned that into an 11-year touchdown scamper by Andy Dalton.
The Birds got the ball back, Foles completed a pass for eight yards and Foles lost a fumble that was returned 25 yards by Wallace Gilberry to put Cincy up 24-13.
On the next Eagles play from scrimmage, Foles connected with tight end Clay Harbor for 18 yards -- that's good -- the fact that Harbor fumbled wasn't. The Bengals would turn the error into a 32-yard Josh Brown field goal.
But, the Bengals weren't done, on the ensuing kickoff, short man Cedric Thornton muffed the catch and the Bengals would turn that into a Dalton to A.J. Green TD to put Cincy up 34-13.
All it took was those four Eagles offensive plays and one special teams blunder in just 8:22 of game time to lose the three-point lead and turn it into a miserable 21-point deficit.
The math of the mess: In a little more than eight minutes, the Eagles ran only four plays, turned the ball over four times and gave up 24 points.
The Eagles 34 turnovers on the season leads the NFL. They also blocked their own punt Thursday night as Marvin McNutt basically got blocked into Matt McBriar's first-quarter kick.
All 34 Bengals points came off Eagles turnovers or the blocked punt.
"Five turnovers, 31 points. That says it all," head coach Andy Reid said. "Guys played hard, but you can't have those turnovers. You have to take care of the ball. Guys have to do it. I take full responsibility for them."
The miserable turnover fest put a damper on an otherwise impressive defensive showing by the Birds -- they held Dalton to 12-for-26 passing for 114 yards and one TD (a 71.6 passer rating) and forced two fumbles. Brandon Graham especially stood out as he recorded six tackles, one tackle for a loss, 2.5 sacks and forced a fumble.
On the offensive side, Bryce Brown managed just 34 yards on 16 yards rushing and Foles struggled to find his rhythm as he went 16-for-33 passing for 182 yards, one TD and an interception (62.9 passer rating).
The loss leaves the Birds at 4-10 marking only the third time in 14 years that Reid's teams posted double-digit losses.
Speaking of Reid, it's anyone guess now when he will be let go.