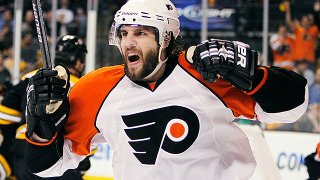 It has been a decade - a whopping 10 years since one of the most memorable games in Flyers history went down. It's a moment that Philadelphia will carry with them forever, a matchup that you will tell your kids about, and their kids will tell their kids and - well, you get the point. It was a big deal.
It's hard to forget the hole the Flyers found themselves in during the Eastern Conference Semi-Finals against the Boston Bruins, but if anything, it added to the buildup of that infamous Game 7.
How could a team that was down a series by three games, get down by three goals in the first period of their last chance and still come out on top? It's just a testament to how special of a team the 2009-10 Flyers were.
I'd like to say their shootout victory in the final game of the regular season against the Rangers set the tone for just how crazy this specific postseason run would be. But let's be real, nothing could prepare fans for a series so historic.
This remains a game that everyone can talk about and never get tired of, but of course, those memories come to life on the anniversary. 
And to all of the party poopers who are on the side of, "Yeah, well then what happened?"
You're thieves of joy.
Philadelphia Flyers
Complete coverage of the Philadelphia Flyers and their rivals in the NHL from NBC Sports Philadelphia.
You can go back in time and relive all of the memories tonight on NBC Sports Philadelphia and the MyTeams App as we re-air this classic at 7 p.m.
Subscribe and rate Flyers Talk: Apple Podcasts | Google Play | Spotify | Stitcher | Art19 | YouTube
Click here to download the MyTeams App by NBC Sports! Receive comprehensive coverage of your teams and stream the Flyers, Sixers and Phillies games easily on your device.
More on the Flyers
Copyright CSNPH - CSN PHI