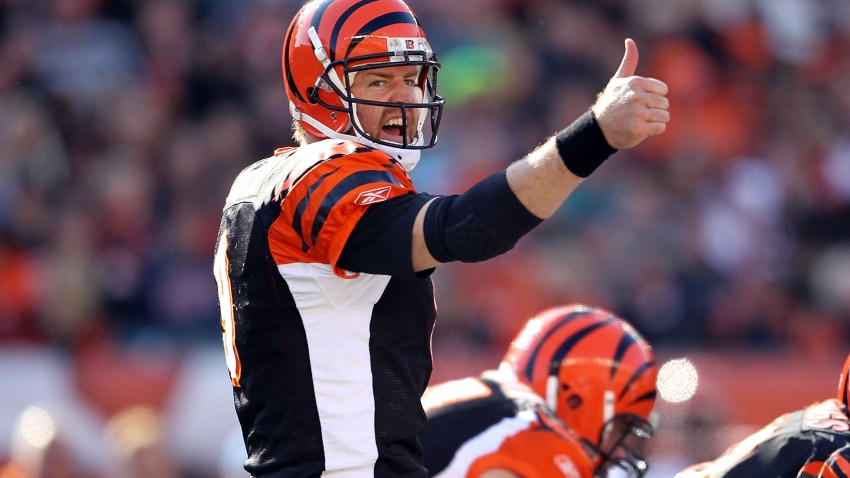 We're gonna cover fantasy football all season long here at Bird's Nest by answering five questions every week about various fantasy-related topics. FLESH FOR FANTASYYYYYY. Let's roll.

1. Will Carson Palmer be of any use this season? We're a long way from 2005, when Palmer was on the verge of becoming one of the best quarterbacks in the entire league. He threw 20 picks last season, and that was with a decent receiving corps and a deep knowledge of his offensive system. Now Palmer will be trying to get back into the swing of things after being out for nearly two months, with an entirely different team. The one thing working in Palmer's favor is that Raiders head coach Hue Jackson was part of the Bengals' staff back in Palmer's glory days, so he may be able to learn the offense quickly. But he still needs to get into game shape, and he'll still be throwing to the likes of Darrius Heyward-Bey. If he can step in cold and start throwing three TDs a game, it'll either be a miracle or proof that the NFL rulebook has gotten WAY too passer-friendly.

2. Does being traded mid-season help Brandon Lloyd or hurt him? Well, staying in Denver didn't seem to be helping him much. Lloyd will instantly become Sam Bradford's top target, but that doesn't mean a whole lot given how often Bradford has been sacked. I can't think of any wideout being traded mid-season and going on to produce mind-boggling fantasy numbers, can you? All I can think of when it comes to mid-season wideout trades is Randy Moss. GAHHHHHHHHH!

3. Christian Ponder is starting! Does that hurt Adrian Peterson or help him? It helps him in the short term because the Vikings will run him into the ground to protect Ponder, particularly against Green Bay. And Ponder, despite being a rookie, has to represent an upgrade from Donovan McNabb, who was comically ineffective. Like any rookie, Ponder will have his moments. But at least the Vikings have some measure of hope now. Not enough to beat Green Bay, but enough to perhaps give them a temporary lift.

4. Should I trade Michael Vick? You haven't yet? What are you waiting for? Don't you know he's scheduled to break his scapula in Week 8? DON'T BE A FOOL.

5. Hey! Megatron didn't score two touchdowns! I am aggrieved! Hey, he can't always be Mr. Perfect.