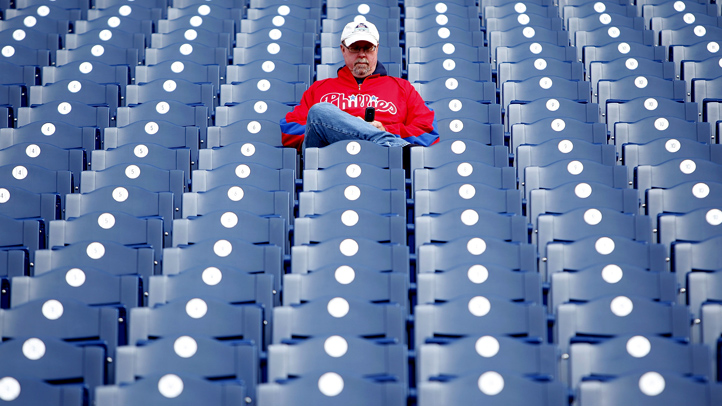 The Phillies lost their fourth straight Tuesday night and hitting was squarely to blame as the team blew Roy Oswalt's return to the rotation. In fact, the Phillies' hitting reached an undesirable milestone, according to Philly Sports Daily:
It was the Phils' fourth-straight loss. In those four losses, they haven't had more than five hits in any one game.

The last such stretch of hitting futility was in May of 1974.
In case you were wondering, the '74 Phillies finished 80-82 and 3rd in the NL East. Now, I'm not gonna tell you that you should panic and start running out into the streets overturning fruit carts and throwing uprooted fire hydrants through department store windows. However, these hitting woes certainly merit some measure of concern.
It's a teamwide hitting slump, and therefore it demands creative and utterly nonsensical solutions that could just be crazy enough to work.
1. Hold a ceremonial live burial of Raul Ibanez. When the New York Jets got crushed by the Pats on Monday Night Football late last year, they decided to bury the game ball as a way of putting the lackluster performance behind them. The lesson? BURYING THINGS WORKS. And what better symbolic object to bury than your aging, horrible right fielder? I'm sure Ibanez will object to being buried alive, likely because he isn't a team player. But I'm sure his teammates could easily subdue him if they were convinced it would help matters.
2. RALLY CAPS! Remember when the Mariners use to turn their hats sideways and wear the brim straight up from their hair like a cloth Mohawk? Wasn't that awesome? No? It was stupid. And they never won a title. Yeah, but maybe that's just because they didn't do it long enough.
3. Get picked up at the bar by that sexy, sexy Suzanne Dorn. You want your luck to turn? Roger Dorn's wife from Major League is all the confidence boost you'll need. Or swap wives! I call dibs on Mrs. Hamels!
4. Blue shoelaces. I think they'd look really sharp and pitchers would throw ball after ball into the dirt because they'd be so mesmerized.
5. Wait until July, trade for a decent bat. Whoa whoa whoa, that sounds like an actual strategy instead of a dopey superstitious method that doesn't even remotely begin to solve the problem. I can't see how that will possibly improve things. Maybe it's just better if we read this post detailing how each Phillie is like an animated gif of Kelly Kapowski from Saved by the Bell.
After all, the best way to get out of a hitting slump is to blithely ignore it.