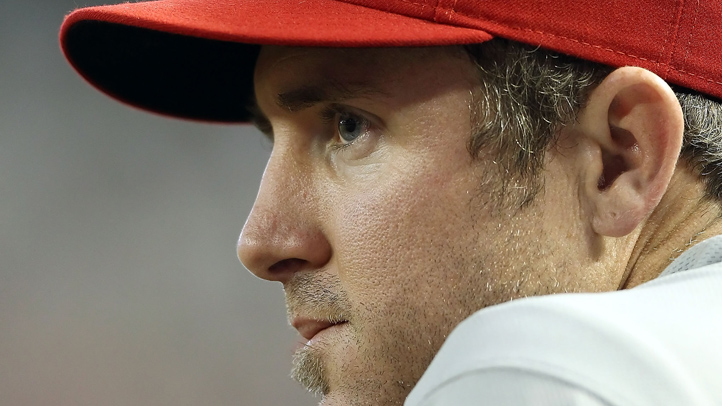 Here at Philthy Stuff we'll be taking a look at the 2013 Phillies and what we can expect from each and every player in the upcoming season as we head towards Spring Training. First up, Chase Utley.

For the better part of the last decade, it can be argued that there was no more valuable weapon in Philadelphia than the man standing at second base. Despite not having any hardware to back up that claim, Chase Utley was more productive than either Ryan Howard or Jimmy Rollins thanks to his offense, his defense and his base running ability.
That skill set made him not only the best player on the Phillies, but one of the three or four best players in Major League Baseball.
Sadly, those days are gone, thanks to a new generation of dynamic hitters taking his place, on top of the fact that Utley is no longer a young man. At 34 years old, Utley is a bit long in the tooth, which is only made worse by the fact that he plays one of the most physically demanding positions on the diamond. To boot, he is currently the owner of a pair of recurring knee injuries that sidelined the veteran for the first part of the 2011 and 2012 seasons.
With the 2013 roster more or less finished, the Phillies are going to hope that Utley plays more like he did in 2010 (.275/.387/.445) than he did in 2011 and 2012 (.258/.353/.426). The good news is that, unlike in 2011, Chase appears to be on the right track to managing his knee injury, and figures to be in the lineup on Opening Day for the first time in three seasons.
If that news wasn't good enough, stat guru Bill James, who releases projections for players before the start of each season, projects Utley to have a tidy line of .274/.372/.463 in 122 games. While I'm not crazy about the fact that he figures Chase will miss 40 games, the fact that his triple-slash is more in the ballpark of what we've come to expect from him is comforting.
Of course, those are just projections, and they really don't mean anything at all, even if it is coming from someone like James. Realistically, we can expect Utley to get on base and to provide some power, but it's a matter of how long he can stay on the field and how long it will be before his knees break down over the course of a long season.
In the end, no one knows what Utley will be able to do expect Utley. At this point, he's on track to he ready for the season, but you really never can tell if you have a pair of chronic knee injuries. What we do know, however, is that if the Phillies want to put runs on the board in 2013, they'll need a healthy and effective Chase Utley to do it.