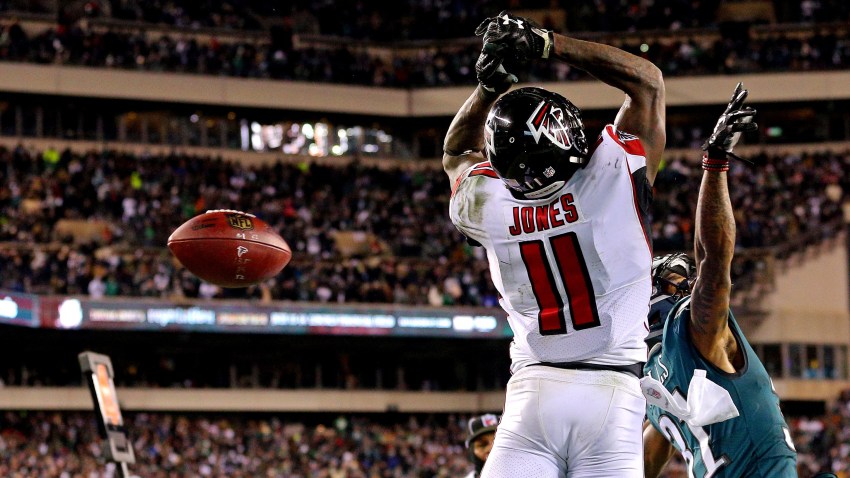 There were no special instructions. No extraordinary measures taken. Not much was said. Not much needed to be said.
The game was on the line. The season was on the line. For the Eagles' defense, it was just another play. The stakes were just incredibly high.
It was 4th-and-goal for the Falcons at the Eagles' 2-yard-line in the final seconds Saturday.
Philadelphia Eagles
Complete coverage of the Philadelphia Eagles and their NFL rivals from NBC Sports Philadelphia.
Give up a touchdown, and the season's over. Stop the Falcons and you're one game closer to the Super Bowl.
"Our guys, we don't do a whole lot," Eagles defensive coordinator Jim Schwartz said. "Our guys know what to do, and they have downloaded that software enough that it's a little bit automatic for them.
"We also didn't change. We don't surprise the players. What we practiced in our red-zone period is what we played."
The Falcons had already driven from their own 24-yard-line down to the 2-yard-line.
Their quarterback, Matt Ryan, has the fourth-highest passer rating in NFL postseason history, behind Jeff Hostetler and Hall of Famers Kurt Warner and Bart Starr.
That's what the Eagles' defense was up against.
"At that point, you sort of have to trust the players and the players have to trust the scheme," Schwartz said. "I think you saw a combination of both of those. We didn't feel the need to blitz. Played coverage, played good technique."
The clock showed 1:05.
Ryan's two favorite receivers, Julio Jones and Mohamad Sanu, both lined up on the right side of the formation, Jones outside with Jalen Mills on him and Sanu in the slot with Malcolm Jenkins covering him in a battle of North Jersey natives.
Ryan took the shotgun snap from center Alex Mack at the 7-yard-line and immediately rolled to his right, retreating to the 10 as he neared the sideline.
Nigel Bradham, lined up as the left linebacker, trampled blocking tight end Levine Tollolo, who had his hands full with Brandon Graham, and ran around guard Wes Schweitzer, giving him an angle on Ryan.
Meanwhile, Vinny Curry, after getting cut blocked to the ground by Falcons running back Tevin Coleman, quickly bounced back up and began pursuing from Ryan's left.
Ryan pumped once toward Sanu, who was covered by Jenkins. He quickly looked left but saw only Curry closing in. Thanks to the pressure, he had to quickly backpedal back to the 14-yard-line and finally was forced to unload that lob toward Jones at the right sideline in the end zone.
At that point, it was up to Mills, who had Jones blanketed, and the rest is history.
The ball went through Jones' hands, his feet came down out of bounds anyway, and after an agonizing moment looking for flags, the play was over.
"A lot gets made of what Jalen did, rightfully so," Schwartz said. "You're talking about a Pro Bowl, All-Pro receiver, 1-on-1. But Malcolm playing the seven route to Sanu and Rodney (McLeod's) ability to help him leverage that, that was because he's looking for Julio Jones first.
"Julio slips, he's looking for Sanu, nowhere to go and now he has to re-rack that thing and by then, Nigel is closing down on him and everything else.
"If Malcolm doesn't get that route that he covered, if he doesn't get that covered, nobody's talking about Jalen Mills right now."
Mills was physical with Jones but not physical enough to draw a flag. Schwartz said Mills has made huge strides this year with his technique, and on the biggest play of his life, his technique was perfect.
"It's one thing to have confidence, but that's just not the sole requirement for the position," Schwartz said.
"There's a lot of technique that goes along with playing, and I think if you look at that last play, he did a great job of staying square. Meaning his shoulders were perpendicular to the line of scrimmage.
"What the receiver there is trying to do is get you turned so he can come back for the ball. He could never get Jalen turned."
Mills is 23 years old, a second-year pro, a former seventh-round pick, a first-year starter.
To think that he made one of the most historic plays in Eagles postseason history is remarkable.
"I think every player makes a big jump from year one to year two, as far as knowledge of scheme and knowledge of opponents and things like that," Schwartz said.
"(Defensive backs coach Cory) Undlin and Jalen have worked really hard. He's haunted the hallways quite a bit, even on off days this year, just trying to improve his technique. It hasn't been by chance that his technique has gotten better. It's a lot of hard work that's gone into it from a coaching standpoint and from a player's standpoint."
The bottom line is that this defense has played tremendous football all year.
And with the season on the line, everybody simply went out and did their job. Nothing more, nothing less.
"I just think a part of our success is our guys just understand what's asked of them in the schemes," Schwartz said.
"They communicate well. We don't make a lot of mistakes, mental mistakes, and I think that makes it hard to drive the ball on us.
"When you get into those situations where is it's closed quarters and you don't have to defend deep balls, our guys have a good understanding of what opponents are going to do. I was proud of them on that play."
Copyright CSNPhily