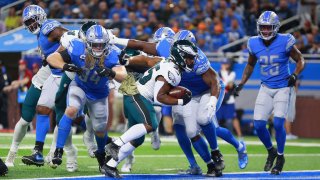 D-line finally shows up and more in Roob's observations originally appeared on NBC Sports Philadelphia
For the first time since opening day, the Eagles looked like a football team.
A real, live, actual NFL football team.
What a thing.
No matter who the opponent was, it sure beats what we've seen the last month and a half.
How much of this was actual growth on the Eagles' part and how much was the fact that the hapless Lions - who have a very real chance of going 0-17 - were on the other side of the field?
Philadelphia Eagles
Complete coverage of the Philadelphia Eagles and their NFL rivals from NBC Sports Philadelphia.
A little of both.
Nick Sirianni finally committed to the running game, the defensive line finally showed up, and the Eagles played smart, mistake-free football for 60 minutes.
They jumped on a wretched team early and didn't let up and left Detroit with their most lopsided win since 2013 and most lopsided road win since 1981.
Here's our 10 Observations from the Eagles' 44-6 win over the Lions at Ford Field in Detroit.
1. I have to start with the d-line because their performance was the key to everything the Eagles accomplished Sunday. They were monsters. They controlled the line of scrimmage, never let Jared Goff get going and slammed the door on the Lions' running game. Jonathon Gannon was more aggressive than he has been, which made sense against this offensive line and this quarterback. Get after him! The Eagles pressured Goff non-stop, recorded six sacks and although Goff completed a high percentage of his passes most of them didn't go anywhere. Josh Sweat was all over the field. Best game of his career. Really showed why the Eagles gave him that huge contract. Heck, even Derek Barnett got a sack for the first time in 11 games, Hassan Ridgeway picked up his first since opening day in Atlanta and rookies Milton Williams and Tarron Jackson recorded the first sacks of their careers. This d-line has underachieved all year. Linemen not named Javon Hargrave had just 3 ½ sacks coming into the game, and they recorded six Sunday. This is one of the highest-paid defensive lines in the league and it's about time they started playing like it.
2. It took two months, but the message finally got through to Nick Sirianni. "Run the freaking ball.' Even without Miles Sanders, Sirianni attacked the Lions with a constant dose of running plays, and it paid off in a big win. The Eagles ran for 237 yards, their most on the road in seven years. But it wasn't just the number of running plays, I thought Sirianni did a nice job mixing up the plays, using different backs out of different looks and using that massive offensive line to wear down the Lions. And when Jalen Hurts did throw, the Lions weren't able to tee off because Sirianni had them guessing. The Eagles' offensive line – with Nate Herbig playing most of the game in place of injured Jak Driscoll – really took it to the Lions' defensive front because Siriannia's play calling allowed them to. But here's the thing. It doesn't mean anything if Sirianni doesn't stick with it. Yeah, the Eagles ran it up the gut on a winless team and Sirianni kept dialing it up because it kept working. With a young quarterback still trying to figure it all out, Sirianni has to commit to the run for the long haul. It has to be a staple of the offense all the time, not just when they have immediate success.
3. The big thing for me defensively was that the Eagles finally stuffed the run and they tackled better than they have been. DeAndre Swift was just 12-for-27 rushing – 2.3 yards per carry - and the Eagles' streak of 10 straight games allowing 100 rushing yards finally ended. The Lions rushed for only 57 yards and 19 of them were in the last minute.
4. How amazing was it seeing Jordan Howard back doing what he does. Think about his last two years – cut by the Dolphins, thought his career was over last offseason, comes to training camp with the Eagles, gets cut, spends the first seven weeks of this season on the practice squad, just never quits, never stops believing in himself, never stops working, even though he knew he may never even get another chance. You know how humbling it must be to be a former Pro Bowler running scout team on a practice squad? Then Miles Sanders gets hurt, and Howard finally gets a shot. And he goes out there and rushes 12 times for 57 yards and two touchdowns in his most extensive playing time in two years. Incredible perseverance and determination. Love that kind of story.
5. The way Scott and Howard ran the ball does make you wonder why neither one has been a part of this offense so far this year. Coming into the game, Scott had seven carries all season and Howard didn't have any. All they did was combine for 117 rushing yards and four touchdowns. Last time two Eagles had two rushing TDs in the same game? You have to go back 41 years to Eagles-Vikings at Metropolitan Stadium in Minneapolis Week 2 of the 1980 season, when Wilbert Montgomery and Leroy Harris did it in a 42-7 win over the Vikings. The Eagles are loaded at running back.
6. I thought the first few minutes of the third quarter was huge for this team and this coaching staff. The Eagles took that 17-0 lead into the second half, but when you're 2-5 it doesn't take a lot for the doubt to start creeping back in. So the offense drives 90 yards for a touchdown and then the defense stops the Lions on downs, and that was that. Ballgame.
7. I'm sure people will find a way to complain about Jalen Hurts' performance, since he only completed nine passes for 103 yards. But he did what he had to do, he didn't miss any open guys, he made good decisions, he didn't take any sacks and he made a lot of plays with his legs. Hurts ran seven times for 71 yards and three first downs and he did what he had to do to complement a massive ground attack. There will be games the Eagles need Hurts to do a lot more and we can evaluate him more when that happens. But for now, I see a young kid who did everything he was asked to do in a game the Eagles won by 38 points.
8. A couple historical notes: The 38-point margin of victory equals the 10th-largest in franchise history and is largest since a 43-point win over the Bears (55-11) at the Linc in 2013. It was the Eagles' most lopsided road victory since a 42-point win over the Cards (52-10) at Busch Stadium in St. Louis in 1981 and the 5th-largest road win in franchise history. It was the Lions' 11th-worst loss ever and 5th-worst at home but second worst in Detroit since 1993. The Eagles' 180-yard rushing margin (237-57) was their largest since 2013 and 4th-largest on the road in the last 70 years.
9. We saw a lot more T.J. Edwards and a lot less Alex Singleton Sunday, and Edwards did a nice job. Edwards was credited with 13 tackles, two tackles for loss and a quarterback hurry, and Singleton – who came into the game third in the NFL in tackles – didn't have any. I'm not under any illusions that Edwards is any more of a long-term answer than Singleton. They're both undrafted players best suited to special teams and a spot role on defense. But I am glad to see that Gannon and his coaches won't hesitate to make a change when they need to. Singleton has not played well this year, and Edwards is a little bit better. It's one thing to talk about accountability, it's another thing to make the change when you need to make the change. That's a good sign.
10. One other thing this game shows me is that Sirianni still has the players' ear. He's still getting through. I don't care who the opponent is or what their record is, you don't go on the road and play this brand of football if you're not still buying in. Sirianni says some odd things and definitely has a different way of expressing himself sometimes. But ultimately all that matters is what kind of football his guys play. And as long as they're playing hard, he can say whatever he wants to say.
Subscribe to the Eagle Eye podcast:
Apple Podcasts | Google Play | Spotify | Stitcher | Art19 | Watch on YouTube