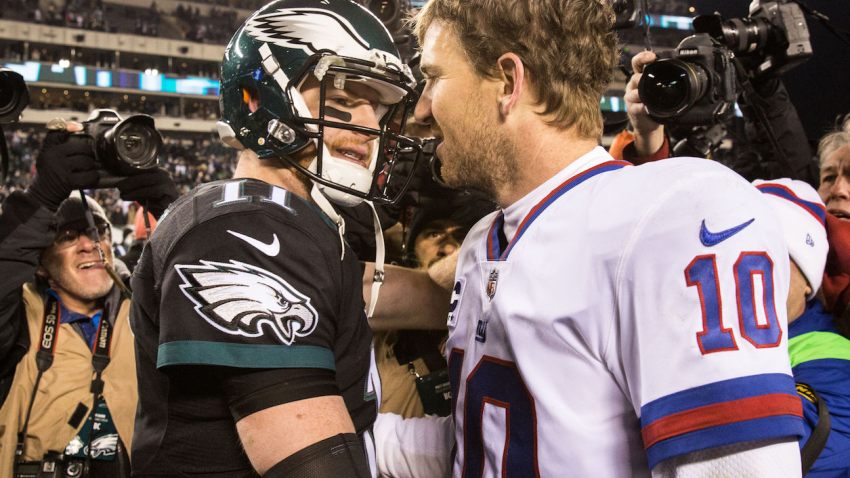 Eagles (1-1) vs. Giants (0-2)
1 p.m. on FOX
Eagles -6

The Eagles try to jump out to a 2-0 start in NFC East play Sunday but host a desperate Giants squad whose season is already on the line in Week 3.
New York's record is in danger of falling to 0-3, which would seriously cripple whatever playoff hopes the franchise has. This is as close to must-win as an NFL game gets in September. However, the league's 30th-ranked scoring offense will be searching for answers against a hostile Eagles defense at Lincoln Financial Field.

The Eagles enter the week with a 1-1 record after a tough loss in Kansas City. A win would not only push the club back above .500 on the year but also keep them ahead of the sticks so to speak in terms of the division standings.

Eli Manning at the Linc
The Giants' offense was broken long before the 2017 season got underway. New York hasn't eclipsed 19 points in any of the last eight contests, including playoffs - a stretch that runs through last December.

As if the unit didn't have enough problems, their quarterback will be walking into an environment where he's been notoriously awful. Since 2009, Eli Manning has completed 60.0 percent of his passes for 6.2 yards per attempt with 11 touchdowns and 11 interceptions. The Giants are 2-6 in those contests, and 4-14 in their last 18 meetings with the Eagles, period.

In other words, if Manning and his mates are going to get their season turned around, this would not appear to be the matchup to do it. Add in the fact the Eagles' defense looks like it has the potential to be a top-five unit, and New York's offense could be in for another long day.

Key matchup: Giants WR Odell Beckham vs. Eagles secondary
If the Giants get any kind of reprieve at all, it could come in the form of the numerous injuries in the Eagles' secondary. Defensive backs Corey Graham and Jaylen Watkins have already been ruled out, and starting free safety Rodney McLeod is questionable. All three are dealing with hamstring injuries.
Philadelphia Eagles
Complete coverage of the Philadelphia Eagles and their NFL rivals from NBC Sports Philadelphia.
While this might sound favorable for the Giants' receiving corps, it remains to be seen whether that group will be able to take advantage. Three-time Pro Bowl selection Odell Beckham Jr. missed Week 1 with an ankle injury and was still limited in Week 2, finishing with four receptions for 36 yards against the Lions. Meanwhile, fellow wideouts Brandon Marshall and Sterling Shepherd have been little more than window dressing in his absence, and tight end Evan Engram is a rookie.

It's going to be interesting to see which Beckham shows up, as he has the potential to raise the level of play of Manning's secondary targets as well. In particular, whether Beckham can get over the top of a gimpy McLeod - or whoever winds up in centerfield for the Eagles - could have a huge impact on the outcome of the game.

Balance is important, but avoiding turnovers is essential
For all the talk about the Eagles' run-pass ratio this week, the real reason they failed to pull out a win over the Chiefs came down to something much simpler: turnovers.

The Eagles gave the ball away twice last week, on the road no less, which is a huge no-no. Both plays occurred in enemy territory, too, giving the opponent a short field - a Darren Sproles fumble on a punt return that led to a quick field goal (and cost the Eagles a possession), and a Carson Wentz interception that eventually wound up in a touchdown the other way. Meanwhile, Kansas City did not turn the ball over at all.

Sure, the Eagles need to commit to the ground attack. Even a bad running game has some benefits. But what really cost the team in a seven-point loss last Sunday were the giveaways.

No matter how many times the Eagles run or throw the football against the Giants, there is no excuse for giving a struggling offense more opportunities. Then again, that might mean handing the ball to LeGarrette Blount 20 times for three yards and a cloud of dust and playing the field-position game is the way to go here.
A chance to take a commanding lead
Don't expect anything to come easy. This is a rivalry game, against a team with its share of problems, but a championship-caliber quarterback and respectable defense. If the Giants can't get anything going on offense, the Eagles might be able to run away in this one, but more likely, it will be close.
That being said, if the Eagles can pull off the victory in front of their own crowd, they will be the first NFC East team to 2-0 in the division. The Giants will fall to 0-2, and Washington is sitting at 0-1. Only the Cowboys currently have a win as well and will be 1-0.
A win Sunday moves the Eagles to 2-1 on the season. More importantly, it would put them ahead of the curve in their division, which despite the potential for New York to fall out of the race early, looks like it will be very competitive as usual.
Copyright CSNPhily