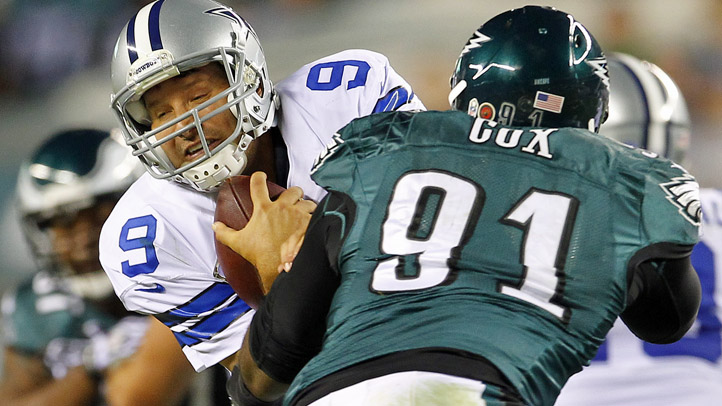 There aren't many people out there, including our own "experts," predicting an Eagles victory over the Cowboys on Sunday Night Football on NBC(10) but there are some reasons to be optimistic that the Birds can beat the hated Boys in Dallas.
1. The Cowboys aren't any good either
Yes, the Eagles (3-8) are mired in a seven-game losing streak that has fans rooting for a Top-5 pick rather than wins right now but that doesn't mean we should want them to lose. The biggest thing working for the Eagles Sunday night is that the Cowboys (5-6) aren't very good either. They've only beaten two good teams (The Giants in the opener and Buccaneers in Week 3). Besides that they've barely squeezed out a win over the Browns and Panthers as well as a win over the Eagles.
2. Bryce Brown
Eagles' rookie running back Bryce Brown burst onto the scene (and on to plenty of fantasy football starting lineups) with 178 rushing yards and two touchdowns on 19 carries. Yes, he also fumbled away the ball twice but his gaudy rushing numbers are what stand out. Don't be surprised if Andy Reid actually feeds the ball to Brown this week and that could mean another 100-plus-yard performance and possibly an Eagles win.
3. Tony Romo loves coughing up the football
The Eagles might be dead last in the NFC in turnover differential, but the Boys are a close second to last. Dallas QB Tony Romo alone is responsible for 18 turnovers (15 interceptions & three fumbles) that make up all but five of the Boys' 23 turnovers that are just one less than the Eagles' 24. And, just like the Eagles, the Boys' defense doesn't force many turnovers as they've averaged just one a game this season.
4. Nick Foles has something to prove
Any dreams of a "SuperFoles" Bowl anytime soon have seemed to disappear with each sub-par start by the Eagles' rookie signal caller. But, after a week where Eagles "starting QB" Michael Vick became the focal point of a controversy as to whether he is being held out so the Birds can evaluate Foles, the rookie should feel a fire under him to perform. The Cowboys are sixth-worst in football in opposing quarterback rating (94.8) so expect Foles to look better, possibly throwing for a couple scores -- having possession receiver Jason Avant back helps.
5. Reid has one last magical December prime time moment left
Remember the days earlier in the Andy Reid era where it seemed the Eagles would never lose on national television? Overall Reid's Birds are 33-23 in prime time but his teams have only managed a 3-4 record with prime-time spotlight on them the last two seasons -- one of those wins though came against the Boys last season on Sunday Night Football. But they also are one of the best December teams in recent history -- Reid is 38-15 (.717 winning percentage) in December -- including a 3-1 record last season. For whatever reason, Reid's team play their best when the games count the most – the best month for the Eagles beside December is November (a .568 winnings percentage). These guys still love their coach and I think they will have a "win one for the Gipper" moment in Big D.