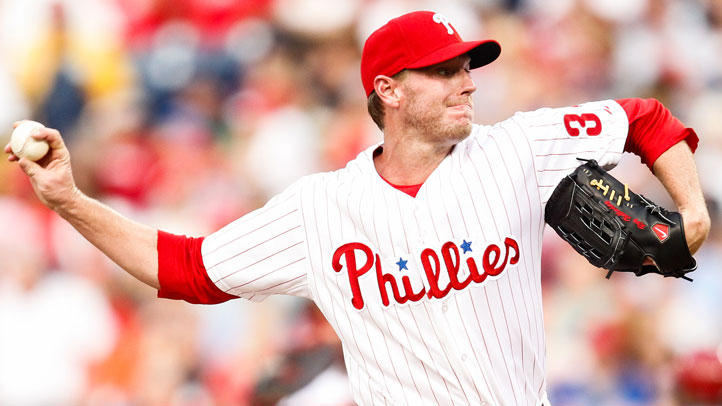 We've been following Roy Halladay's progress this month, as he looks to bounce back from an utterly disappointing and forgettable 2012 season. On Thursday, we got to witness his Spring Training finale, with hopes that we could feel better about him at the end of March than we did at the beginning.

And after watching his 4 2/3 inning performance against the Toronto Blue Jays, that does not appear to be the case. He didn't pitch poorly – he allowed two runs and struck out five – but he didn't pitch really well, either - he gave up eight hits and two walks, and he struggled with his command throughout.

To be fair to Halladay, his velocity sat around 88-90 throughout the game, which is encouraging, but the lack of command pretty much undoes whatever good came from him regaining his velocity, and it's not a stretch to suggest that the two are related in some capacity. If Roy is overthrowing to add a few ticks to his fastball, then his command might just go right out the window.

In short, it was a microcosm of Roy's spring: Some positives, some negatives, and too many questions unanswered as we head into the season. Namely, "What happened?" and "Why can't Roy Halladay throw a good fastball anymore?"

Unfortunately, there aren't a lot of answers. Doc insists that he feels healthy, and he says that he feels like he's getting stronger, but that doesn't mean much of anything unless he can translate that good feeling into success on the field and into decent starts in a rotation that is in desperate need of them.

All told, it was a pretty miserable spring for Halladay, who ends up with an ERA greater than 6.00 in 16 innings of work. While you can only take so much from spring stats, no one is feeling any better about his performance this month and about what that means for the regular season. Does that mean that he won't get it figured out between now and this start in a week from now? Of course not. Halladay is a pro's pro, and if there is one guy who can get all this solved, it's him.

And just because we, as fans, need to prepare for the worst case scenario as it pertains to Doc, that doesn't mean that it has to happen that way. He makes his first start of the season on Thursday. Let's see how that goes.