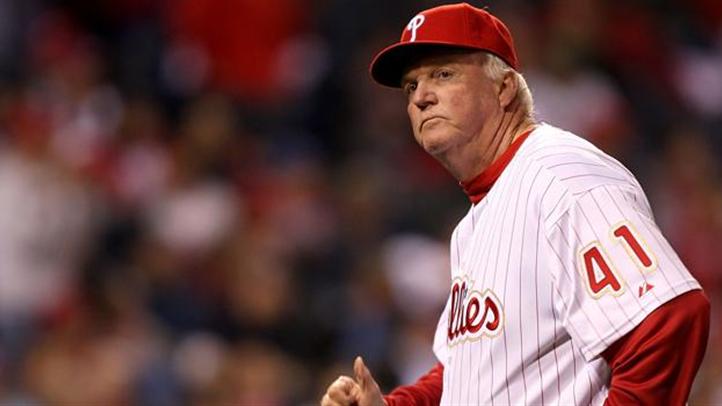 Phillies, you're on notice.
No longer are the fans, the ownership, and the manager happy with the "success" that you've had this season, if you can even call it that. Double digit lead in the division? Please. Major League leading 94 wins? Yawn. Home field advantage throughout the playoffs? What. Ever.
This team will not use such arbitrary measures of aptitude like "wins" and "losses" and "run differential to gauge their success." No, they will be evaluated based on how they fare against the Houston Astros in September, which is the only true way to judge a team that has made mince meat out of the rest of the league this season.
Seriously, though, what's up Phillies? I know I
joked about them having no hope
for making the playoffs yesterday, but the whole "losing two games to the lowly Houston Astros" thing is less like a joke and more like a cruel prank that the team is playing on their fanbase. And Charlie Manuel ain't laughing.
Manuel had strong words for his team during a clubhouse meeting after it played another sloppy game in a 5-2 loss to the lowly Houston Astros on Tuesday night.

…

Manuel was soft-selling the meeting. Word from the clubhouse was he rattled some cages pretty soundly.
There haven't been many instances of this occurring this season, which is quite the sea change from the early days of Charlie's tenure as the manager, when it seemed like he would rip the club every three or four games.
Maybe it's just a lapse of a few games, or maybe the team is losing focus as the season winds down, or maybe they are just plain gassed. Whatever the case may be, the team certainly hasn't played like they are capable of against the Astros, who seem to give them fits. After all, this is the same team that swept them in a four game series in Philadelphia last August.
No matter, if Charlie's little talk, which was probably less "I'm not mad, I'm just disappointed," and more "Seriously, you're embarrassing me out there and you made your sister cry," is what is needed in a somewhat meaningless series in the middle of September, then so be it. Obviously, it would be better if the team didn't need to get kick started like that, but complaceny can be killer, and with the playoffs right around the corner, the last thing they need to be doing is losing their edge.
Still, if this is the one thing that we have to complain about, I'd say that's a good thing. After all, it's a long season, and these guys are only human.
Except for Roy Halladay, I mean.