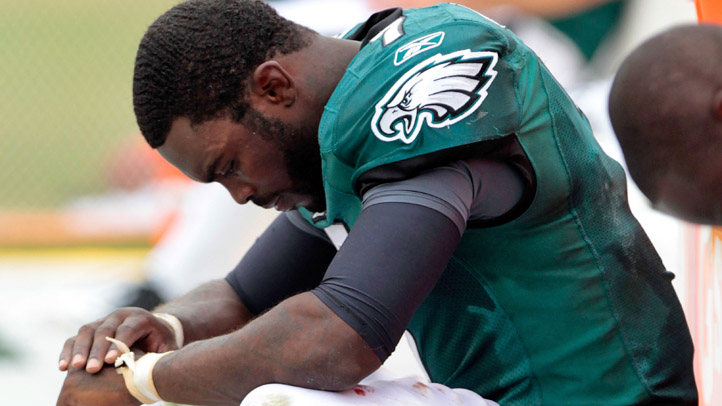 Let me revise my opening statement from a week ago: Yesterday's loss was a disaster. The Eagles showed extended stretches of dominance on both offense and defense, but made vital mistakes, suffered awful injuries, and ended up losing by two touchdowns to a depleted Giants team. Oh, and the coaching stunk.
Let's break it down with some statistics:
13:42 = Time of possession advantage to the Eagles. They had the ball over 50 percent more than the Giants, ran 21 more offensive plays, and reached 11 more first downs. Yet the Eagles only scored 16 points. How is that possible? One word: coaching. Those numbers are indicative of the talent disparity in the Eagles favor. Only horrible play calling (see: Schmitt, Owen and shovel pass, predictable) could cause the Eagles to settle for three field goals in the red zone.
4 = Times the Eagles were stopped in short yardage situations, including three plays from the one-yard-line and a fourth down attempt. We will have to see if this becomes a theme. Howard Mudd's offensive line philosophy requires smaller, athletic linemen. That hasn't been a benefit on short yardage. During his time in Indianapolis, Mudd's lines averaged only 19th in Power Success.
6th = Most rushing yards in game for an Eagles player in the post-Duce Staley era. Pretty much the only positive you can take away from this game is the play of LeSean McCoy, who has quietly made his case for being the best offensive player on the team, if not the whole league. McCoy's play warranted the almost even split of run to pass calls Andy Reid doled out yesterday.
4 = Big plays allowed of 25 yards or more, including three touchdowns. Sometimes it's easy to assign blame, like on the Brandon Jacobs touchdown wheel route when Casey Matthews (AKA white Ernie Sims) failed to pick him up. Sometimes it's more difficult, like on the patented Eli Manning interception gift that Victor Cruz somehow beat out Nnamdi Asomugha and Jarrad Page for the go-ahead TD. It doesn't matter, though. Other than experimenting with Brian Rolle at weak-side linebacker, hardly a sure thing, the cupboard's empty. With big personnel holes and a coordinator who seems completely incapable of making schematic adjustments, the Eagles defense is lost.
8 = First week of the NFL season that the Eagles have any hope of seeing Michael Vick return to the field after his broken hand. The team faces teams that are a combined 7-1 over the next three weeks. Unless Vince Young or Mike Kafka can summon some heretofore unseen magic and the defense improves rapidly, this team could rapidly dig a hole for themselves that's too deep for even Vick to get them out of.