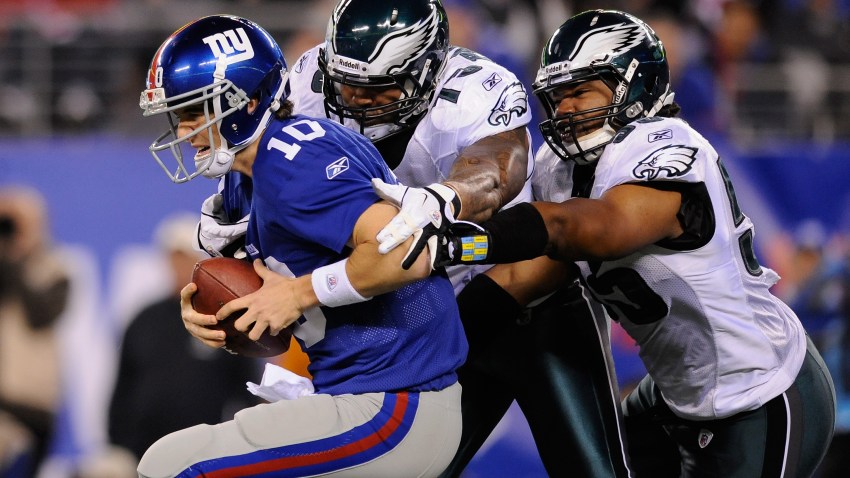 I've never been less enthused about an Eagles win in the Meadowlands. Hope that doesn't harsh your mellow, but this terrible season and the race-to-the-bottom game Sunday night didn't really cheer me up.
Let's look at the numbers:
0 = Giants red zone opportunities. How do you solve a massive red zone defense problem? Don't let the Giants inside the 20!
3 = Interceptions by Vince Young. The Eagles backup QB was alternatively efficient and mistake-prone. He helped convert more than half of the Eagles third-down opportunities and threw for two touchdowns in a game where the Giants largely contained RB LeSean McCoy. When Young is on his game you wonder why he isn't an All-Pro. But those turnovers, yikes.
12 = Passes targeted at Riley Cooper. Sunday night was our first extended look at Cooper and Young looked to him early and often. DeSean Jackson had a rebound day, but after him, Cooper was clearly Young's favorite target. The largest wideout the Eagles have by far, the 6-foot-3, 222-pound Cooper could fill a fade-catching niche for the offense. But I'm not convinced after one game. It would be nice to see him get more snaps as the season continues so we can evaluate his receiving skills going forward.
128 = Receiving yards by Giants WR Victor Cruz. I hoped that Nnamdi Asomugha would redeem himself against the Giants and Cruz, showing that his early season troubles were mostly the result of learning a new system and trying to fit into Juan Castillo's questionable coverages. Then we all saw that touchdown catch by Cruz, where Asomugha completely lost him in the end zone. $60 million? Not even close to worth it right now.
10 = Official quarterback hits on Eli Manning. The Eagles defensive line looked energized after a few down weeks. The Giants have one of the worst run-blocking lines in the NFL, so it was good to see Jim Washburn's group shut that down. But the pressure on Manning was a nice bonus.
50 = Receiving yards left on the table by DeSean due to a taunting penalty. I don't really know where to start with Jackson. The taunting penalty seemed unfair considering its dead-ball-foul nature, but ultimately it's DeSean's responsibility. And after he missed last week's game, you'd think he'd play with some maturity and humility. I guess not. At this point I'm increasingly sure that he won't be in Philadelphia next season.