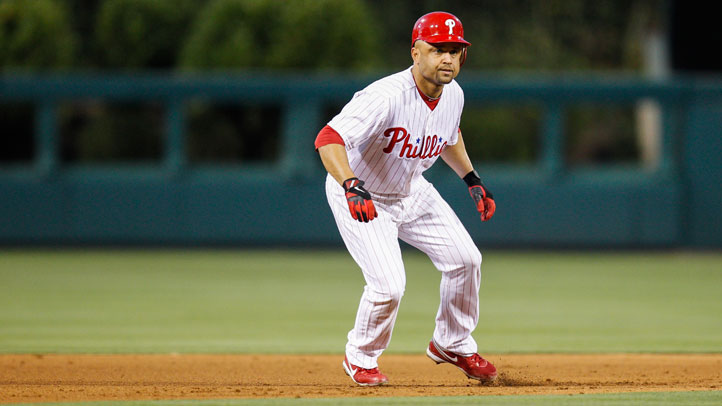 The Phillies have some pressing issues to handle during the offseason this year, one of which is going to be the situation at third base. And Ruben Amaro's already checking out the options.
Matt Gelb of the Philadelphia Inquirer spoke with Amaro, who acknowledged that it's going to be tough for the Phillies to improve the situation immediately, because of a lack of available talent at the position.
"Somebody's going to play there," Amaro said. "We'll have to try to figure it out."
Placido Polanco's filled the role this season, but it doesn't take a genius to realize that he's not producing a whole lot of anything from an offensive standpoint there. Among all third basemen who have played at least 75 games this season (there are 23 of them), Polanco sports the lowest OPS+, with 69.
He has two homers, zero steals, 19 RBI and a .255/.300/.628 line. It's hardly the sort of stuff you want out of a position that usually features a little bit of power.
Polanco has a $5.5 million option for next season, and Amaro wouldn't rule out exercising it, but made it clear he'd prefer to upgrade either via free agency, or possibly even by trade.
"I'm not all that anxious to move young players," Amaro said. "But I think with a couple of the moves we've made, we have added some talent to our system. It may allow us to do some things we maybe wouldn't have thought about doing earlier in the year. We have some catching depth now. We have some more pitching depth. We may be able to deal from a position of strength."
In other words, Amaro isn't afraid of moving a prospect (or more) if it means he can put someone with a bat at third and increase the Phillies chances of contending next year.
His decision to go with a trade or free agency and to what extent he'll pursue an offensive-minded player may revolve around how Philly handles the other two currently vacant outfield spots.
"If we get very offensive players in the outfield, maybe we can afford to go with a more defensive player [at third]," Amaro said. "Ideally, you'd like to get both."
Earlier in the week we passed along a report that the Phils "love" Michael Bourn, who's set to be a free agent after this season. He would be the type of player -- because of the investment he'd require -- who would likely have the Phils thinking defense with a third baseman.
Philadelphia's going to have to spend at third regardless, but given a lack of free agents available (Kevin Youkilis looks like the best one assuming the White Sox don't pick up his option), the more prudent move might be to find someone available on the trade market and beef up the lineup and defense at the same time, without dropping too much coin on the open market.