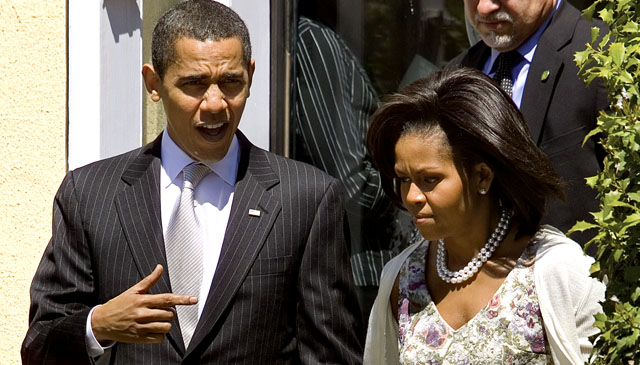 President Barack Obama and his family celebrated Easter at St. John's Church, the first public worship services for the president since he took office.
The Obamas opted for the safe choice for Easter Sunday, visiting the pale yellow church across from the White House where other presidents have worshipped. The pick puts off -- for now -- a decision on a new permanent congregation for the first family.
Obama, his wife, Michelle, and their two daughters took Communion at St. John's Church on Lafayette Square, where they heard a come-as-you-are sermon tailored to doubters and skeptics. The Rev. Luis Leon made no direct reference to the Obamas, who made their first trip to a Washington church since Inauguration Day under tight security and scrutiny.
U.S. & World
Stories that affect your life across the U.S. and around the world.
Where a president worships -- and whether he goes to church at all -- tends to draw political as well as social significance. For Obama, his place of worship has been of keen interest, given his history with a Chicago pastor whose bombastic sermons almost destroyed Obama's presidential bid. Obama's friend and pastor, the Rev. Jeremiah Wright, was seen on video condemning the United States and suggesting the government was to blame for the HIV/AIDS scourge on black communities.
Obama left his Trinity United Church of Christ and has since been without a home church. Aides and advisers have visited more than a dozen Washington-area churches in recent weeks; Obama is expected to check out many of them before settling on a new church.
Aides say he could join a historically African-American church in the nation's capital, where 55 percent of the population is black. It would be a nod to his family's roots on the South Side of Chicago, a signal to his black supporters who helped fuel his rapid rise and a cue to his two young daughters. It could also be a danger if a message from the pulpit comes anywhere close to Wright's heated rhetoric.
Since the New Year, the Obamas have only attended church services twice in Washington. Two days before the inauguration, Obama visited 19th Street Baptist Church where worshippers lined up three hours before the service at one of the oldest historically black churches in Washington.
Aides say he could just as easily select an integrated church, similar to St. John's. There was no indication from White House officials that Obama was seeking membership at St. John's, an Episcopal church Obama also visited on his Inauguration Day.
Leon welcomed believers -- including Obama -- and nonbelievers alike and called Easter an event based on faith, not logic.
"I can't explain Easter to anyone. It just can't be done. It's like a professor trying to explain one of e.e. cummings' poems," he said.
He added: "It takes time to be a believer. ... Faith cannot be forced and faith cannot be coerced."
St. John's is a popular pick for presidents, both for its proximity to the executive mansion and for its familiarity to the Secret Service. A pew nine rows back from the altar carries a small brass plaque designating it as "The President's Pew." President George W. Bush often attended services there, and church history contends that every president since James Madison, the nation's fourth chief executive, has visited.
Obama, the nation's 44th president, quietly greeted others seated near him Sunday but tried to keep as low a profile as possible. He offered polite greetings when people stopped at his red-upholstered pew to wish him a happy Easter while waiting in the aisle to take Communion. He sat on the aisle, smiled and shook a few hands, but he often faced Mrs. Obama and chatted with her.
But when the president visits a church, it can never be nondescript. The streets around the church were closed to traffic so the president's motorcade could speed from the White House gates to the church and back.
Several hundred gawkers lined the streets near the White House looking for a glimpse of the new first family in their Easter best.
Many lined 16th Street across from the church and craned from the driveway of the Hay-Adams hotel. Those going inside the church went through metal detectors and passed Secret Service agents to enter the historic church that is visible from the White House's North Lawn.
Among prayers offered during the service were those for the president -- or simply "Barack" -- and others in public life: "Guide and bless us in our work and play, and shape the patterns of our political and economic life. We pray for Barack, our president, the leaders of Congress and the Supreme Court, and all who are in authority; for Afghanistan, Iraq, Sudan and the Middle East, that all people may be fulfilled through the bounty of your creation."
The congregation responded: "We are made in your image, O God. Guide us in your grace."
Copyright AP - Associated Press