Day two in the trial of a man accused of opening fire on two state troopers in eastern Pennsylvania proved to be an emotional one as the jury watched never before seen dashcam video of a near-fatal gunfight.
Daniel Clary, 22, faces charges including attempted murder of a police officer and aggravated assault in the roadside shooting Nov. 7 on Route 33 in Plainfield Township.
Thirteen-year veteran Cpl. Seth Kelly was shot while helping fellow trooper Ryan Seiple make an arrest, authorities in Northampton County said. He may have saved his own life by applying a police-issued tourniquet on his wounded leg before paramedics arrived, according to officials.

Seiple testified for several hours Tuesday. He said he initially pulled Clary over for speeding and became suspicious that he had been driving under the influence. Seiple then called for backup to conduct a field sobriety test and Cpl. Kelly arrived at the scene.
The jury was shown the dashcam video of the stop and shooting from Trooper Seiple's patrol car.
In the video, which has not been made public yet, a man, who police identified as Clary, struggles to complete three sobriety tests. When Seiple tries to arrest him he resists and reaches for Cpl. Kelly's holstered gun.
Both troopers tased Clary several times. In the video, Clary appears to be in pain and asks the officers to stop. Both officers punched Clary multiple times.
Local
Breaking news and the stories that matter to your neighborhood.
"He was trying to kill us," Seiple told the jury while fighting back tears.
The video then shows Clary breaking away from the troopers and grabbing a gun from his own car before firing several shots. The troopers returned fire.
During an earlier hearing, Seiple said he remembered falling backward during the shootout.
"The first thought that crossed my mind was, 'Please don't let me get shot in the back of the spine,'" he testified. "The second was, 'Don't let me get shot in the head.' The third was, 'Don't let me die.'"
Clary, who was shot several times during the shootout, managed to drive himself to Easton Hospital. Seiple said he then rushed to save Kelly, who had been shot three times, once in an artery.
Seiple told the jury Cpl. Kelly was bleeding out and screaming in pain though he had already managed to apply a tourniquet to his own leg. Another tourniquet was applied and they struggled to contain the bleeding. Kelly was eventually airlifted from the highway.
Kelly told the International Association of Chiefs of Police that he was in a medically induced coma for 12 days and retains no memory of the shooting.
"I'm just extremely lucky to be here right now," Kelly said in a video posted by the association.
When Clary arrived at the hospital for treatment for his injuries, he confessed to shooting at the officers and attempting to disarm them, state police said. He was taken to Lehigh Valley Cedar Crest for surgery and remained hospitalized for five days.
Clary was held in lieu of $1 million bail. His attorney last week sought more time to prepare a defense, citing a need to find an expert witness to counter planned testimony for the prosecution, but the judge declined the request.
Monica Patterson, Clary's mother, told lehighvalleylive.com her son has a long history of mental illness and suffers from paranoid schizophrenia after a series of head injuries.

"His mental illness needs to be addressed," she said weeks after the shooting. "They think he's normal, but he's not normal."
Clary was found competent to stand trial following a mental health evaluation.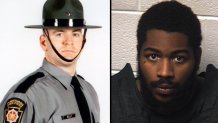 Copyright AP - Associated Press