ARCTIC BLAST-COLDEST YET
If a picture is worth a thousand words, how about two pictures? On the top is a map of temperatures compared to normal this past Saturday evening, right in the middle of our weekend chill. Right below it is the same map for this Thursday evening. The color differences tell the story: the coming cold blast is WAAAAY colder than the last one.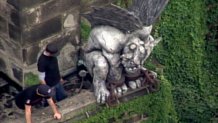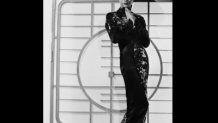 Winds gusting to 40 mph will bring a piece of that bitter cold air from around Minneapolis (where it didn't even reach 10 degrees Tuesday). The wind chills here will be in the single digits from Thursday morning through Friday around noon. That's more than 24 straight hours! The coldest it should feel is near zero during Thursday night.

(By the way, this is nowhere near record cold lows for Philadelphia. Record lows are mostly in the single digits for the rest of the month. The all-time record low in December is -5 set in 1880. That's temperature, not wind chill.)

THE SNOW (AND MAYBE SOME ICE)
So, here we are, with the coldest air of the season (by far) Friday morning. And we'll look to the west on the weather map and see a huge area of moisture approaching.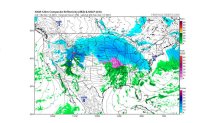 That big mess is moving toward us. Considering how cold it will already be around here Friday evening, how can we warm up fast enough so that all we get from that next storm is rain? We can't. The precipitation will start as snow, even in Philadelphia. Even in Delaware and South Jersey. Only the details are in question, even this far ahead of the event. What time will the snow start, and how much will fall where you live? It's a little too early to precisely answer those questions. But it's clear the trend is for strong warming during the day Saturday, so that the entire area is well above freezing with regular rain later Saturday into Sunday morning. Take a look at how the maps change, from 7 a.m. Saturday to 1 p.m. Saturday, to 7 a.m. Sunday.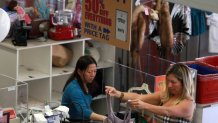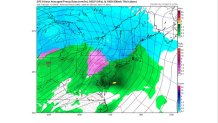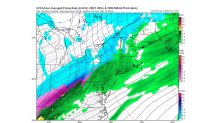 The area in pink is what we're going to focus on most, since it indicates a zone of freezing rain that is possible as we change from snow to rain in some areas. So here's the summary of the weekend as of now:
Local
Breaking news and the stories that matter to your neighborhood.
Friday night….anything that falls is snow…anywhere in the area
Saturday morning…most likely time for snow accumulation and travel problems. ….changing to rain from south to north
Saturday night…any wintry mix changes to rain. Rain and milder temps
Sunday morning….mild with rain in all areas
Sunday night….windy and turning colder with falling temps. Rain could change to snow, especially Lehigh Valley/Berks. Stay tuned for updates on our first potential snow accumulation in parts of the area-on a very busy weekend.