Strong gusting winds from a monster coastal storm knocked out power by Friday night to more than half a million customers in southeastern Pennsylvania, New Jersey and Delaware.
By Monday night, the number of customers without power was around 30,000.

The damage in some areas from fallen trees taking down power lines and damaging transformers is so severe that it could be four days before power is restored to all homes and businesses.
PECO customers living in Montgomery and Chester counties said the energy company told them not to expect power to be restored until at least Sunday. Several customers were told they may not have electricity until late Monday.
PHOTOS: Major Storm Brings Damaging Wind, Rain and Snow to Area
Here's a breakdown of power outages across the area as of 6:45 a.m. Monday.

TOTAL CUSTOMERS WITHOUT POWER: About 30,000

About 27,386 customers are without power.

Power has been restored to most of South Jersey.

2,246 remain without power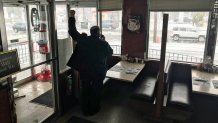 81 remain without power.

318 without power

Remember to contact your power company if you lose electricity: PECO | PSE&G | PPL Power | Atlantic City Electric | Delmarva Power