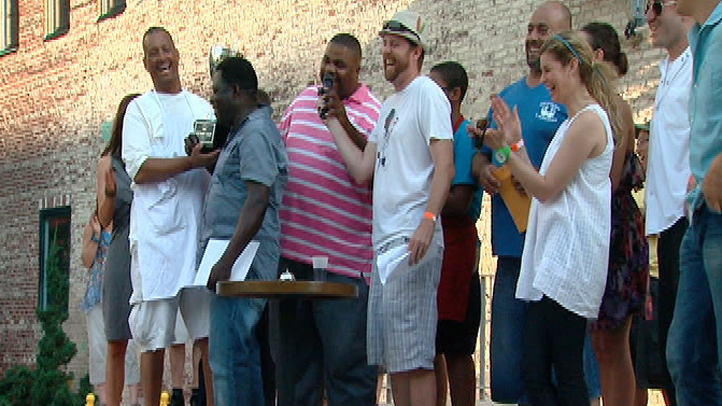 Take note, Gamble and Huff: There's another kind of Philly soul capturing the hearts of Philadelphians.

Gigi and Big R's soul food truck has taken home the city's first Vendy Cup for best street food vendor.

Eight of the city's most popular food carts and trucks competed Saturday at the Vendy Awards, an offshoot of the popular New York City cook-off that started in 2005. Online voters chose the eight finalists and a panel of chefs and foodies at Saturday's sold-out and sweltering event chose the Caribbean and American soul food of Gigi and Big R's as the winner.

The 10-year-old curbside culinary business is operated by Elukene Rene (''Big R''), originally from Haiti, and Thomas Bacon (''Gigi''), from Philadelphia, and operates on the Drexel University campus.

Bacon held the silver cup and joked about using it for a cold beer "after standing over a deep fryer, frying chicken, cooking cabbage and greens and serving customers."

The judges, including Mayor Michael Nutter, heaped praise on all the contestants.

"These street vendors are a testament to the booming culinary scene here," Nutter said.

More than 500 people lined up inside the Piazza at Schmidts during the event, a fundraiser for nonprofit healthy food advocacy organization The Food Trust. Attendees chose Cucina Zapata's chicken satay tacos and other Thai-Mexican fusion dishes as winner of the "people's choice" award.

"I'm starting with dessert because the lines are shorter," 24-year-old Angie Renault said while savoring a dulce de leche cupcake from Sweet Box and a salted caramel French macaron from Sweet Philly. "My mom would totally be yelling at me about spoiling my appetite, but I'm not too worried that'll happen."

She made a smart move, as the two dessert trucks ran out of confections before the four-hour event was over. Those who got a chance to sample the fare chose Sweet Box as the best dessert truck.

Vendy organizers decided to create a Philadelphia branch of the contest after three local food trucks made the trip to New York last year and impressed the judges. The Vendys are the creation of the Street Vendor Project, which advocates for New York City's sidewalk sellers and is part of the Urban Justice Center.

"Philadelphia has fantastic street food, and I can't think of a better way than a day like today to honor these vendors who keep hundreds of Philly residents well fed and satisfied," Street Vendor Project director Sean Basinski said in a statement.

Copyright AP - Associated Press