A dramatic rescue unfolded Thursday morning in Delaware's Brandywine River.
Wilmington firefighters were returning from a call around 6:30 A.M. when they noticed a man in distress stuck in the middle of the river, authorities said.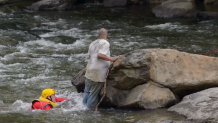 Wilmington's rescue squad was called to the scene, where they deployed into the river to rescue the man. The rescue team got him into a life jacket and attached a tag line to bring him back to shore.
The rescue took approximately 20 minutes while 24 first responders were on the scene. The man was transported to Wilmington Hospital.