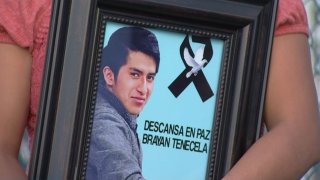 A body was found after a young man went missing while swimming in the Delaware River near Delanco, New Jersey, on Sunday.
The 21-year-old man, later identified by family as Brayan Tenecela-Yunga, was swimming with friends near a boat ramp off Delaware and Union avenues when they became separated. Tenecela-Yunga's friends called 911 after he didn't resurface. 
Along with the U.S. Coast Guard, fire departments from Delanco, Riverside, Delran Beverly, Burlington and Riverton all took part in the search. The emergency squads from Delanco, Palmyra and Delran were also involved in the search.
Sunday evening, officials said they recovered a body from the river.
On Monday, police identified the body as Tenecela-Yunga after notifying family members of his death.