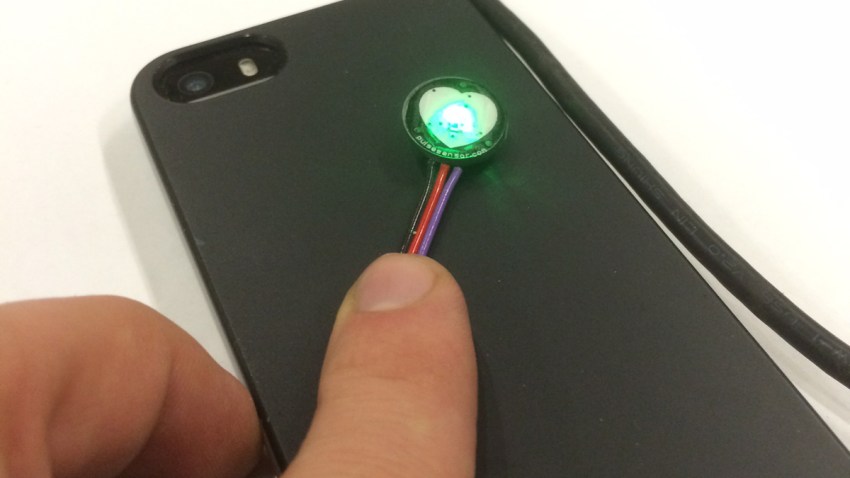 Monitoring your heart rate could one day be as simple as sending a text message, scrolling through Instagram or playing another round of Candy Crush thanks to two brothers from Delaware County.
Jack and Charlie Giammattei, of Swarthmore, Pa., created Monitor.Me – a case that tracks your pulse while you hold your smartphone.
"We have a scale at our house and I never use it," said 31-year-old Charlie, the founder of the Conshohocken-based medical data collection and analytics firm, MedTrak Inc. "I figured with a lot of pulse tracking stuff, I'd never use that unless something was already tracking it."
Local
Breaking news and the stories that matter to your neighborhood.
So Charlie teamed up with his 29-year-old brother Jack, who contributes to large-scale software deployments at Vanguard, to create the Monitor.Me prototype over the course of two days in February as part of Philly Codefest, a two-day programming competition.
"We thought if we could make it so you didn't have to do anything to collect your heart rate that could be really valuable," Jack said.
Similar products are already in development, but this is the first to collect a person's heart rate passively.
"You don't have to open an app," Jack said. "Whenever you pick up your phone for anything, it could be checking your heart rate."
The brothers, who graduated from Strath Haven High School, spent a combined 60 hours creating the product, which detects the pulse through a sensor about the size of a dime. Using infrared light, the sensor captures changes in blood volume in a person's finger. The information collected by the sensor is then sent to hardware, called an Arduino board, which translates the data into an understandable format. The final product shows up on a computer screen as an electrocardiogram.
They designed the current prototype's hardware and software, but are still working on a final model that would bring them together in the phone case.
"The sensor could be embedded into the plastic case and the [hardware] could be shrunk down like a battery," Jack said.
"Our vision is the sensor would be embedded in a spot on your phone where your finger naturally slid on to the sensor as you were talking," Charlie added.
While there are plenty of commercial heart rate monitors available to consumers, most are geared towards tracking one's fitness.
"The most useful portion of [Monitor.Me] is its ability to detect atrial fibrillation," Jack said.
An estimated 3.5 million Americans suffer from atrial fibrillation – a heart rhythm disorder associated with palpitations, shortness of breath and chest pain.
Plus about 25 to 30 percent of strokes are due to this condition, said Dr. David Callans, associate director of electrophysiology at the University of Pennsylvania Health System.
"We love monitoring," Dr. Callans said. "And we'd love to have monitoring when the symptoms are actually happening. This is a way to increase the likelihood that happens."
Since the sensor is collecting information based on light, the developers had to create safeguards so data would not be collected while the phone was sitting on your coffee table, sunlight streaming through the window hitting the sensor.
"One of the first things we did was write all these filtering algorithms so it didn't register you as dead when you were not holding your phone," Charlie said.
Despite the results, Charlie and Jack know Monitor.Me still has a long way to go.
Making the phone case attractive and affordable, yet still effective, along with securing a person's personal health information are a few of the things that would need to be addressed, they said.
Dr. Callans, who is excited about the product's potential, also hesitates to declare the technological advancement a complete success.
"The diagnostic accuracy has not been field tested. There will be transmissions that fool people," said Dr. Callans, who added that can be an issue with medical monitors currently in use.
The volume of data – Monitor.Me provides a reading 500 times per second – can also be difficult to sort through if patients are sending it to their medical providers at random intervals, he said.
"It has to get into the right hands in close to real-time," he said.
Regardless of the refinements needed, Charlie and Jack say their next step is to patent their innovation – that one's heart rate is monitored while the smartphone is being used for another function.
"That would probably be the most prudent way to take the idea to another company and have them take the reins," Charlie said. "That would be the most realistic way for this to get to the market quickly."
And Dr. Callans looks forward to its arrival.
"If we can develop the systems around it, it would be monitoring people whenever they felt like they needed it," he said. "It is technology that people can carry around with them."
---
Contact Alison Burdo at 610.668.5635, alison.burdo@nbcuni.com or follow @NewsBurd on Twitter.