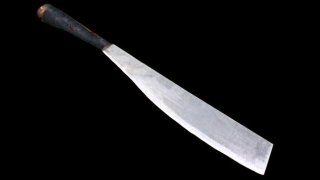 A man was arrested after he allegedly attacked his brother with a machete in Camden.
A Camden Police officer was conducting traffic control on Broadway Street around 5:45 p.m. Tuesday when he received a report of two men fighting on Broadway and Line streets.
The officer responded to the scene and discovered a man who was bleeding. The victim's brother, identified by police as 51-year-old Adrian Mendarte of Camden, was then spotted walking away from the area holding a machete, according to investigators.
The officer arrested Mendarte as he tried to enter his home on the 500 block of Line Street and recovered the machete, police said.
Mendarte was charged with aggravated assault, possession of a weapon and unlawful possession of a weapon. He was remanded to the county jail with bail set at $50,000 cash.
The victim was taken to Cooper University Hospital and treated for non-life threatening injuries.