The world Tyrone Jones walked into Thursday morning when he walked out of a northeastern Pennsylvania prison is barely recognizable from the last time he saw it.
Jones' last time outside prison walls was in the early 1970s. Televisions still had dials. Most people still used rotary phones.
Jones, who turns 60 next month, spent the last 43 years behind bars after he was convicted in 1973 of a gang-related murder in Philadelphia. He was 16 at the time and sentenced to life. But, after a 2012 Supreme Court decision that ruled juvenile life without parole unconstitutional, Jones is among more than 500 people in the state of Pennsylvania whose sentences will be re-examined.
"This is the best feeling anybody could have, you know, coming out of prison for all these years and having my family," Jones said joyfully as he reunited with his tearful sisters after leaving prison. "This is it right here."
With the historic ruling that calls some 2,500 juvenile life cases across the country into question, the spotlight rests on the Keystone State, and on Philadelphia in particular. Pennsylvania has the highest number of juvenile lifers in the country, with 506 people sentenced as kids serving life sentences. Of those, the lion's share, about 300, were convicted in Philadelphia. Jones is one of the first from Philadelphia to regain his freedom.
"I came to prison when I was 16 years old, so I missed growing up," Jones told NBC10's Tracy Davidson. "The average 16-year-old will go to school, get an education, go to college, meet a nice girl, get married, settle down, go to work. That's what I missed. I just wanna go to the zoo, go to the park, go to museums. All the things I missed."
In Pennsylvania, 323 juvenile lifers who could now be set free have served more than two decades, State Secretary of Corrections John Wetzel said.
"We've got a lot of work to do if these folks are coming back to our community," Wetzel told NBC10 earlier this year. He said state officials began preparing for the potential releases as soon as the Supreme Court ruling came down in 2012 -- even before the court said that its ruling would apply retroactively to past sentences.
Jones plans to go live with his sister in North Carolina. Wetzel said other juvenile lifers released in Pennsylvania will first go to halfway houses to transition slowly back to life. At the houses, counselors and social workers will help them with everything from picking out clothes to learning to pay bills and develop job skills.
"The people that are most successful in this world are people who gradually transition into adulthood through either college or the military, so if we think in that context, we need to create a gradual transition," Wetzel said. "Our halfway houses give us the opportunity to do that."
Wetzel stressed that although people serving life sentences they received as juveniles walking out of prison is a historical moment, state officials have also been working hard on the other side: making sure victims are aware of the decision and have support they need.
"These are folks who thought the case was over, thought they wouldn't have to deal with this again, at least in this way, and now they have to relive it," Wetzel said. "So I think it's important any time we have this discussion, we keep that in mind."
Juvenile Lifer Earns Freedom After 40-Plus Years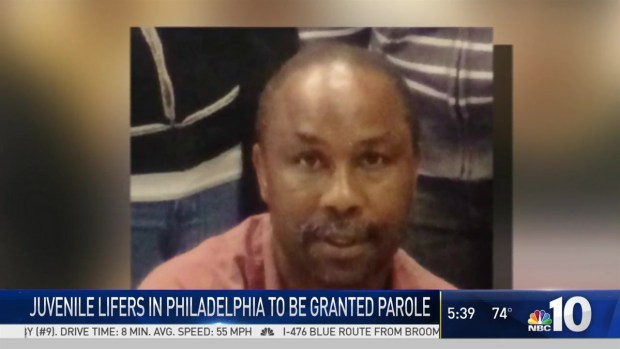 In prison, Jones said, he hasn't made many decisions on his own. Wetzel said re-entering the world after so long in the sterile, stringent prison environment, coupled with how much the world has changed while the juvenile lifers have been on the inside, is an anxiety-inducing combination.
"They're going back to to a world they know nothing about. In cartoon parlance, they came in in the 'Flintstones' era and they're getting out in the 'Jetsons' era," Wetzel said.
"Before, my life was controlled. If I had to use the bathroom, gotta get permission. If I wanted to go to school, gotta get permission," Jones said.
His first decision after prison? What to order for breakfast while out to eat with his sisters.
He went with bacon and eggs.