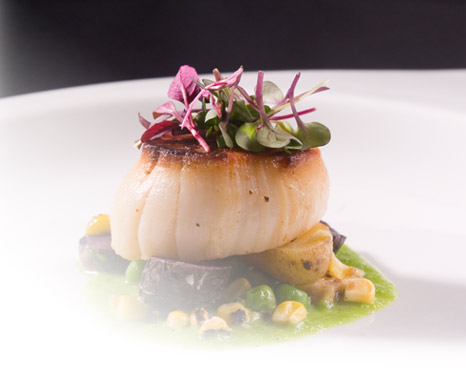 Roasted Diver Scallops with Kabocha Squash, Chanterelle Mushrooms, and Mulled Cider
Recipe by Chef Georges Perrier of Le Bec Fin
Ingredients:
Two U10 diver scallops
1 tbl vegtable oil
salt and pepper
3 tbl butter
1 kabocha squash peeled and cut into 1 inch pieces
2 qt milk
2 cloves
1 cinnamon
1 star anise
4 oz chanterelle mushroom washed and cut into small wedges
1 sprig of thyme picked into leaves
1 qt apple cider
1 tbl calvados
1 tsp ground allspice
1/2 tsp thai long pepper ground
1 tsp soy lecethin powder
Directions:
Warm the cider, add the allspice, long pepper, calvados and lecethin.
Blend with a stick blender and cover. Let steep for 30 min.
Put the squash in a medium pot and cover with milk. Sachet the clove cinamon and star anise and add to the squash. Cover with milk and cook over low heat until tender. Strain and puree in a blender with 1 tbl of butter until smooth. Pass through a fine sieve. Reserve keeping warm. In a little butter saute the chanterelles until soft, finish with the thyme.
Reserve keeping warm. In a medium high heat saute pan add the oil and warm. Season the scallop and sear until you acheive golden color. Flip and sear on the other side baste with 1 tbl of butter. Using a stick blender emulsify the apple cider to cloudy. Spoon a little bit of puree onto a plate, place one scallop on top of puree, top with some mushrooms and finish with a spoon of apple cider sauce.