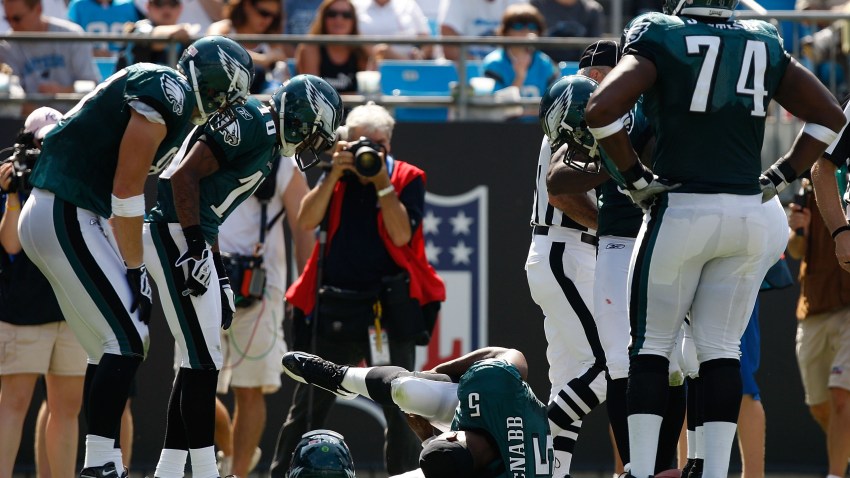 For a few years now the Eagles front office has argued that they can find good value in players coming off injured seasons. They have made free agent signings and draft picks that many regarded as possible steals, if the player could only rebound from a season-ending injury.
Perhaps this weekend's release of tight end Cornelius Ingram and trade of guard Stacy Andrews proved once and for all that such a strategy is faulty.
Let's look at all the injured players they've signed over the years.
Jack Ikegwuonu: The Eagles drafted this cornerback with supposed first round potential in the fourth round of the 2008 draft. Having injured his knee preparing for the NFL Combine, Ikegwuonu never had a chance of playing that season. He sat out the year and came back for 2009 -- he played on the practice squad. When Joselio Hanson was suspended, Ikegwuonu was promoted to the active roster, only to be cut after one game.
Cornelius Ingram: Drafted in the fifth round of the 2009 draft, Ingram had missed his last year of college football due to an ACL tear. And, unlike many NFL teams' doctors, the Eagles medical squad cleared Ingram to play. Ingram subsequently re-tore his ACL during training camp. Having missed two straight years of football, Ingram attempted to come back this season, but was beat out by rookie Clay Harbor for the backup tight end job. Having lost his athleticism, Ingram was released over the weekend.

Ricky Sapp: Yet another fifth round pick with knee problems in college, Sapp's injury still hadn't healed by training camp. He never showed anything special and was placed on injured reserve. After having arthroscopic knee surgery today, Sapp may be in exactly the same place as Ingram a year from now.
Marlin Jackson: Flaunting the injury gods once more, the Eagles signed a player this winter who had not one, but two consecutive season-ending knee injuries. Surpise, surprise, Jackson ruptured his Achilles tendon in June minicamps and was placed on injured reserve.
Stacy Andrews: Finally there's Andrews, who tore his ACL at the end of the 2008 season with Cincinnati. The Eagles promptly went after this "great value," signing him to a six-year deal worth $39 million dollars. After being unable to get on the field last year, Stacy showed little progress in training camp at being able to adapt to the right guard spot. He was then shipped away for a seventh round pick to Seattle -- meager compensation for such a major free agent acquisition.
In each of these cases the Eagles brass thought they could get an edge by buying low on an injured player, even if they had to sacrifice a year. But in the physical world of the NFL, where season-ending knee injuries often knock a player out of the league forever, this strategy represented the ultimate hubris of an organization that thinks it can do no wrong.

Time to move on.