At the end of 2020, our staff and photographers asked many people to wish the year goodbye - and few were sad to see it go. We also wanted to know: what are your hopes and resolutions for 2021?
You might think, after all the change and loss we experienced, optimism for the new year could be hard to come by. We lost hundreds of thousands of people to the coronavirus pandemic nationwide in 2020 - including more than 60,000 across all of Pennsylvania, New Jersey and Delaware, which would be a decent-sized crowd at a football stadium.
Nonetheless, hopes for a more joyful 2021 are still there. After a year where we all got tired of hearing the word "unprecedented," some made the same usual resolutions: to work out more, drink less alcohol, learn a new skill.
But we also saw plenty of more modest sentiments than the common new year ambitions. Of the 11 people whose responses we're sharing with you, most made a simple wish, for something we all want: a better year.
If you wanted to distill it all into two sentences, a woman we spoke to at the BlueCross River Rink said it best.
"Bye 2020, leave us alone and don't come back," she said, lacing up her skates. "We're ready for a new year!"
Below, 11 people from around our region share their resolutions and hopes for 2021.
Tarik Khan, Nurse Practitioner
"In 2021 I'll be looking forward to the holiday parties that we skipped this year. Like the holiday meals I volunteer for at William Way Community Center on Thanksgiving & Christmas Day. It's a safe space people in the community to come together, including those who have no family to share the holiday with. And I can't wait for our health center's holiday staff party! After the tough year we had, I'm looking forward to busting out karaoke songs from Bruno Mars, Queen and other artists way out of my vocal range."
Linda Lamberson, retired teacher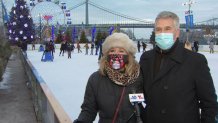 "We're looking forward to being able to travel, getting the vaccine, and being COVID free. Everybody deserves that, people have suffered for so long."
Holidays
Enjoy a safe and happy holiday season with NBC10!
"We did like spending time with our family at home, that was a good thing. I wish for peace in the world. … We were supposed to go to Greece in March and we had to cancel it."
Lamberson retired from the Ridley School District in 2020 after more than three decades as a teacher.
Jeannine Cook, Harriet's Bookshop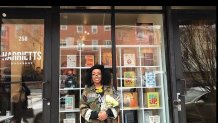 "The idea of instituting Governments was to secure people's rights to 'life, liberty, and property. The irony is that when this was written, many women still had no property rights—and black women in this country were still being treated as property. This sordid inequitable history has left many behind when it comes to who has ownership in this country. I, like so many black women business owners in Philadelphia, are running businesses out of a buildings that we do not own. This modern form of sharecropping attempts to limit our ability to leave the legacy of our businesses to our lineage. For the new year I wish more folks, especially black women in both Philadelphia, and around the globe, owned (not lease) our own land and had complete and total autonomy over the direction of our futures."
Tiffany Collins, Northeast Philadelphia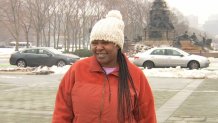 "It's been an extremely rough year, however I managed to persevere and definitely looking forward to 2021. I'm claiming it now...I'm here at the Art Museum trying to get fit...I'm going to try [to stick with it] this year."
Collins said she will miss her family's traditional New Year's meal of greens and black eyed peas, which is not happening this year to keep everyone safe. According to the Farmer's Almanac, a typical meal in line with this Southern tradition usually features cornbread and ham or pork, - you "eat poor on New Year's and eat fat the rest of the year." The greens symbolize dollar bills, the peas symbolize coins or luck, and the cornbread represents gold. All are aimed at bringing luck and wealth into the new year.
Delaware State Sen. Sarah McBride
"Let 2021 be a year of healing, progress, and joy. I'm hopeful that 2021 holds the bridge to the other side of this crisis and to a world where I can safely hug my nieces and nephews and spend time with friends and neighbors. Let it be a year where we harness the imagination and perseverance that the pandemic has required of us long after the crisis has passed, and where we use that imagination to ensure that we do not to return to the past, but chart a new path forward with opportunity, dignity, and health for all."
Makia Jenkins, North Philly
"Getting in shape, getting fit, and beginning a new business. I just want to explore my creativity and bring some new things to children in 2021 with my art...a couple of great projects that I'm going to be offering."
Mark Bixenman, health care worker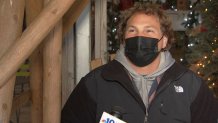 "For 2021, since 2020 has been so crazy, I would just like for everyone to be healthy, get through this pandemic together and wash your hands."
"I'm working in the hospital so hopefully we can find a cure for this virus, and everyone can get together and stay safe, that's really what I want. A good year, not like this year."
Dr. Rachel Levine, PA Health Secretary
"I want to share my sincere thanks to all, especially our front-line workers, for their resilience in the fight against COVID-19," Levine told NBC10.
"One thing I am eager to do in 2021 is receive my COVID-19 vaccine. I encourage others to do the same so we all can stay safe and stay healthy.
Together, we will stand united and stop the spread of COVID-19 in 2021."
Katerra White, Full Sail University junior
"Just being able to go back on campus finally, working in that classroom studying, that hands-on experience that I didn't really get a chance to get this fall semester or winter semester cause we're still doing online."
"Opening up a chapter at my school for my sorority, I didn't get a chance to do that."
Justin Moore, manager of Uncle Bobbie's Coffee and Books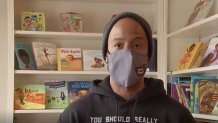 "My one wish in 2021 is that my daughter can just be a kid again without having to think about catching a deadly virus. Being a kid is supposed to be the one time in our lives where we don't have to worry and I don't want her to lose any more months of that freedom."
Porsha McCollum, Pennsauken NJ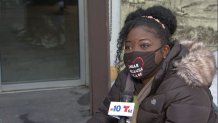 "I'm looking forward to no more Covid, and getting together, restaurants, family. I'm tired of this whole situation, I really am."
"[2021] won't be like this whole somber feeling over everywhere, that's how it feels [right now]. ... You can't really go any place, you can't really move like we used to do. I'm just looking forward to happiness, and that's being able to get out, go places in the city, restaurants, eat, family gatherings."