Katy Zachry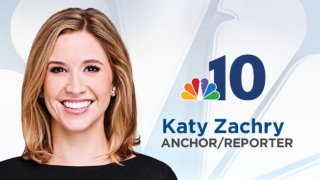 Katy Zachry is a reporter and fill-in anchor for NBC10. You can watch her reporting weekday mornings on NBC10 News Today at 4:30 a.m., 5 a.m., 6 a.m. and 11 a.m.
Katy is most passionate about making connections with viewers and ensuring that they are aware of what is going on in their community.
"As a reporter, every day is something new; a new story to cover, new people to meet, a new concern in the community to expose," said Katy. "I like the responsibility of informing people about the good and the bad. There's a thrill to being on a scene, getting new information first, and relaying it right then to our viewers."
Katy's favorite part of covering the Greater Philadelphia area is that there is always news being made here. She also grew up in Newtown, Bucks County, and the area holds a special place in her life.
Her most memorable reporting experience was when she had the opportunity to go to Penn State to cover the Jerry Sandusky child sex abuse scandal. Katy spent weeks at State College, covering the fall-out, the trial, and Sandusky's conviction. She was one of several reporters who earned an Emmy award for coverage of the difficult story.
Prior to joining NBC10 Katy went to Bucknell University where she received a degree in Geography. Throughout college, she did a host of broadcasting internships, including one at WHYY in Philadelphia. She also worked at news stations in Roswell, and Albuquerque, New Mexico, and Hartford, Connecticut.
Katy is a proud board member for Students Run Philly Style, an organization that pairs city students with running mentors who, through race training, help students improve their grades and overall lifestyle.
When Katy is not reporting, she enjoys spending time with her family, being active and being outdoors.
Connect with Katy!
Twitter: @KatyZachry
Facebook: @katyzchrytv