Jacqueline London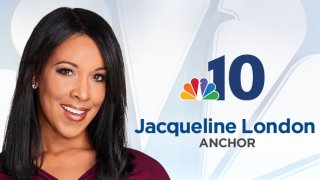 Jacqueline London is an Emmy award winning anchor and reporter for NBC10. You can watch her live weekdays during the 4 p.m., 5 p.m., 6 p.m., 7 and 11 p.m. newscasts.
Jacqueline is most passionate about sharing personal stories of people from the Greater Philadelphia area and informing them about imperative issues in their community.

"I love coming across viewers and hearing what they want to see in our coverage," she said. "Whether I have the chance to meet them at a community event or just out on the street, I cherish every opportunity." 
One of her most memorable moments while working with NBC10 was field anchoring coverage of Super Bowl 52 from the field right after the Eagles clinched the win! She also will never forget covering the 2016 Summer Olympics in Rio de Janeiro, Brazil. While there, Jacqueline had the opportunity to interview many of the Olympians from the Delaware Valley. She was able to follow local athletes every step of the way from their grueling trainings, to the Olympic competitions and the medal stands. It was an honor for Jacqueline to cheer them on in person and share their journeys with the NBC10 viewers.
Prior to joining NBC10, Jacqueline was the evening anchor at WKMG-TV in Orlando, Florida. She is the recipient of seven Mid-Atlantic Emmy Awards and the prestigious Edward R. Murrow award.
An active member in the community, Jacqueline has emceed numerous events for a variety of causes such as the Philly Heart Walk for the American Heart Association, the NAACP Awards Gala, Urban League of Philadelphia Gala, the Blue Tag Gala & the Blitz, Bowties and Bourbon Fundraiser.
When Jacqueline is not on the news, she enjoys traveling in her free time and trying new restaurants in the Philadelphia area.
Connect with Jacqueline!
Twitter: @jackielondon
Instagram: @jacquelinelondon