POWER OUTAGES: Montgomery County
Tuesday, Feb 11, 2014 | Updated 12:56 PM EDT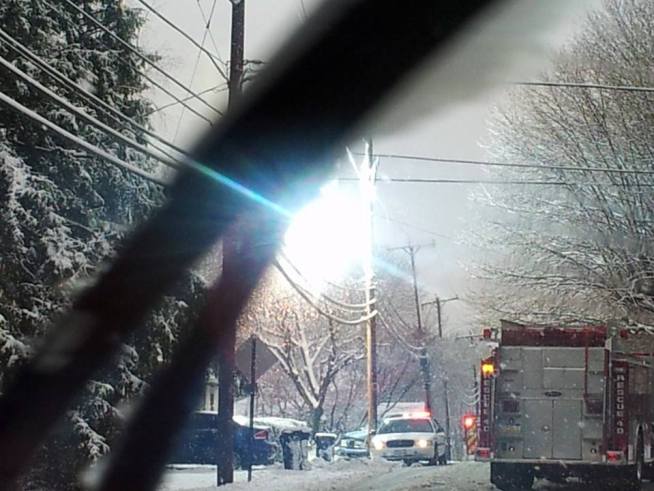 Trish DiAntonio
Feb 3rd storm-Power Lines Exploding Meetinghouse Road in Upper Chichester, PA . On my way home from work 1:00 pm. Power lines just started exploded like fireworks. I was in my car and watched (what looked like fireworks) 3x's. One person was running. The snow was so wet and heavy.
Here is the most recent power update from PECO of power outages in Montgomery County.
The total amount of outages could fluctuate by the minute as PECO works around the clock to restore power.
By Monday morning, thousands remained in the dark despite efforts by PECO to get everyone back online by Sunday night.
If you remain without power be sure to contact PECO. You can also monitor the status of your outage with PECO.
| Township | Customers Affected | Customers Served |
| --- | --- | --- |
| ABINGTON TWP | 65 | 22,300 |
| AMBLER BORO | 0 | 3,200 |
| BRIDGEPORT BORO | 0 | 3,000 |
| BRYN ATHYN BORO | 0 | 400 |
| CHELTENHAM TWP | 22 | 12,300 |
| COLLEGEVILLE BORO | 0 | 1,800 |
| CONSHOHOCKEN BORO | 0 | 5,400 |
| EAST NORRITON TWP | 0 | 5,900 |
| GREEN LANE BORO | 0 | 200 |
| HATBORO BORO | 0 | 3,700 |
| HATFIELD TWP | 8 | 2,600 |
| HORSHAM TWP | 21 | 10,700 |
| JENKINTOWN BORO | 21 | 2,300 |
| LANSDALE BORO | 0 | 100 |
| LIMERICK TWP | 0 | 8,600 |
| LOWER FREDERICK TWP | 12 | 2,100 |
| LOWER GWYNEDD TWP | 0 | 4,900 |
| LOWER MERION TWP | 73 | 22,100 |
| LOWER MORELAND TWP | 0 | 4,900 |
| LOWER POTTSGROVE TWP | 0 | 3,600 |
| LOWER PROVIDENCE TWP | 20 | 9,600 |
| LOWER SALFORD TWP | 0 | 6,100 |
| MARLBOROUGH TWP | less than 5 | 1,700 |
| MONTGOMERY TWP | 0 | 10,600 |
| NARBETH BORO | 0 | 2,600 |
| NORRISTOWN BORO | less than 5 | 15,700 |
| NORTH WALES BORO | 0 | 1,600 |
| PERKIOMEN TWP | 0 | 3,600 |
| PLYMOUTH TWP | 0 | 7,500 |
| POTTSTOWN BORO | 43 | 12,300 |
| ROCKLEDGE BORO | 0 | 1,300 |
| ROYERSFORD BORO | 0 | 2,600 |
| SALFORD TWP | 0 | 1,200 |
| SCHWENKSVILLE BORO | 0 | 600 |
| SKIPPACK TWP | 0 | 4,700 |
| SPRINGFIELD TWP, MONT CO | 32 | 8,400 |
| TOWAMENCIN TWP | 0 | 7,500 |
| TRAPPE BORO | 0 | 1,900 |
| UPPER DUBLIN TWP | 85 | 9,800 |
| UPPER FREDERICK TWP | 0 | 1,400 |
| UPPER GWYNEDD TWP | 0 | 6,800 |
| UPPER MERION TWP | 56 | 11,000 |
| UPPER MORLAND TWP | 19 | 10,300 |
| UPPER POTTSGROVE TWP | 0 | 1,200 |
| UPPER PROVIDENCE TWP MON | 0 | 8,500 |
| UPPER SALFORD TWP | 0 | 1,400 |
| WEST CONSHOHOCKEN BORO | 0 | 900 |
| WEST NORRITON TWP | 0 | 8,400 |
| WEST POTTSGROVE TWP | 0 | 1,700 |
| WHITEMARSH TWP | 0 | 7,200 |
| WHITPAIN TWP | less than 5 | 8,800 |
| WORCESTER TWP | 23 | 3,900 |