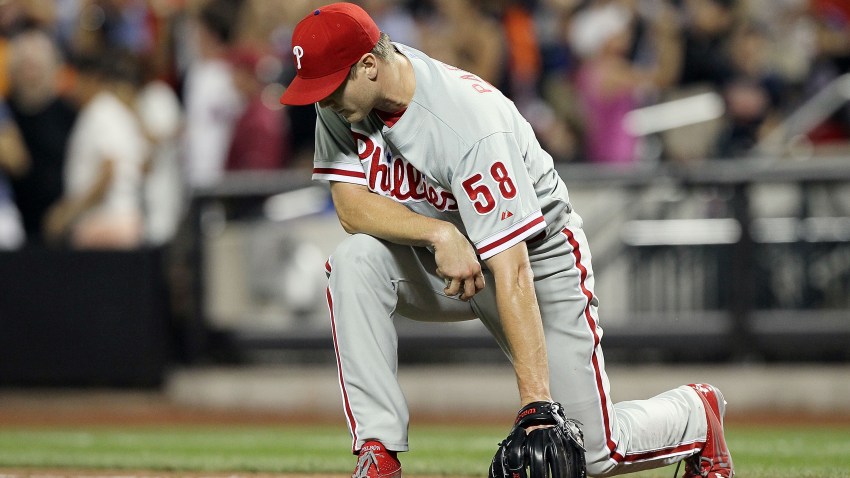 Things have not gone well for the Phillies. They got swept by the Atlanta Braves to finish up the first half of the season, they lost four in a row, ten of their last 11, and are 9-25 since the beginning of June.

But as bad as things are right now for the Phillies, it's sometimes difficult to remember that, only a month or so ago, they were right in the thick of things in the National League east. In fact, it was on June 1 that they were 28-25 and only 2.5 games out of first place in the division. At the time, it was nothing short of extraordinary, considering that their offense was without both Chase Utley and Ryan Howard, and that Roy Halladay had – at that point – not pitched particularly well.

At the time, the logic was "if they can just hang on and keep their heads above water, they can make a run in the second half when they are fully healthy." It was a nice thought, and not an incorrect one, but my oh my, what a difference a month makes.

Now, with the second half of the season looming, they are 13 games under .500 and double digits out of first place in the division. And even with Utley and Howard back in the lineup, it seems like there is little to no hope of them making any sort of run towards their sixth straight October berth.

But, just how long are their odds? Pretty long, according to David Murphy of The Daily News on Friday, after their brutal loss to the New York Mets.
At 37-47, the Phillies would have to go 51-27 just to reach 88 wins, which is the mark they'll likely need to reach to have a shot at the second wild card spot. That a .653 winning percentage. To put that in perspective, the Phillies went 49-29 over the last 78 games of last season, although they did have several 78-game stretches above .653 at other points during the season.


To say that they're behind the eight ball is an understatement. More appropriately, they are behind the eight ball, which is behind a chasm, which is on a desolate planet, which is hurtling towards the sun. So, yeah, it's pretty bad.

That's not to say that it's impossible, because the beauty of baseball is that there is an eternity left in the season to turn it around and make a run. It's unlikely, because it not only requires every team ahead of them to fall out of it, but it also means that they need to play their collective tails off for the rest of the season. And even with a lineup that includes Chase Utley and Ryan Howard, there are still a lot of at bats being given to Mike Fontenot, Placido Polanco, Juan Pierre and John Mayberry.

At the very least, the Phillies can hang their hat on the fact that they've historically been a great second half team under Charlie Manuel's tutelage, and if 2007 has taught us anything, it's that you cannot count this team out until the final out of the final game of the season has been recorded.

In reality, things are looking very grim for the Phillies. And I've posted more than once about how they need to be sellers, and that everything not nailed down should be sold for prospects. But if the last five years has taught us anything about this team, it's that they might just have one more push left in them.