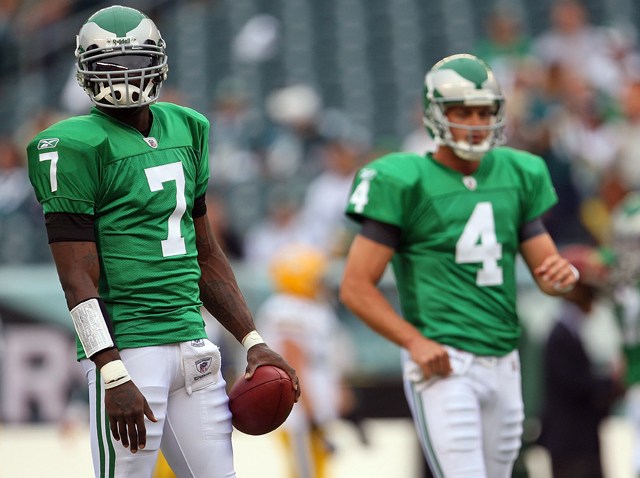 Quarterback Controversy.
Coaches hate the term.
But they don't dictate or determine when it happens. Well, they play into it but when it happens, all of us who watch the game can see it for ourselves. Coaches can scream to the mountaintops and deny all they want.
But as Phillies Manager Charlie Manuel likes to say, "It is what it is."
And the QB Controversy brewing in Philly is partly of the Eagles brass' own making and mostly because of Michael Vick's stellar play.
Kevin Kolb was 5-of-10 for 24 yards. Vick? 16-of-24 for 125, one TD throwing and he led all rushers with 11 carries for 103 yards, averaging 9.4 yards per carry. Moreover, he looked faster than anyone on the field -- like his years in Atlanta. Kolb left the game in the second quarter and never returned because of a concussion. That opened the door for Vick, who was brilliant filling in. So much so that now fans and yes, media, are whispering, "quarterback controversy."
I agree with coach Andy Reid that the job is Kolb's. They traded McNabb because of Kolb, not Vick. Kolb is the future.
But boy is Vick putting them in tough spot, even as he appears to be saving their hide.
And I didn't even mention the fact that McNabb's Redskins won their opener over the hated Dallas Cowboys.
Welcome to the Eagles 2010 season.
It's business as usual -- the best reality show in town.