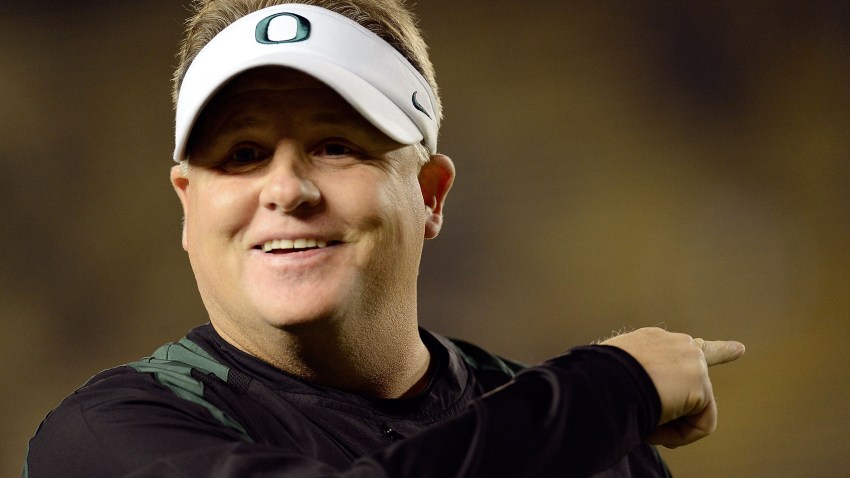 Who will replace Andy Reid in 2013? With this season spiraling out of control, that's one of the few relevant questions left to ponder. As such, I hope you'll indulge me in an ongoing series discussing potential top candidates for the Eagles head coaching job.
Who is Chip Kelly?
The University of Oregon head coach, who turned just turned 49, has experienced a rocket ride to the top of NFL wish lists.
Kelly grew up in Manchester, N.H. One of four brothers, he played quarterback and ran track in high school, then walked on at the University of New Hampshire. After college (although before he graduated in 1990) Kelly jumped into the coaching ranks. He started back in high school, then bounced around with assistant jobs at Columbia, Johns Hopkins, and his Alma mater, before settling at New Hampshire in 1994. Kelly started as a running backs coach there and subsequently became the offensive line coach, where he introduced a zone blocking scheme that helped power running back Jerry Azumah to four straight 1,000-yard rushing seasons.
In 1999, Kelly became the offensive coordinator. He knew he didn't have another talented running back to carry the team's traditional power rushing attack. Instead, using concepts he had learned from other teams running the spread offense, Kelly installed the first version of his now famous speed-based attack. UNH averaged more than 400 yards of total offense in seven of his eight seasons, as Kelly continued to add to and perfect his scheme, often borrowing from other coaches around the country (and even in Canada).
With success came job opportunities. Kelly turned down a job as a Giants quality control coach under Tom Coughlin and interviewed elsewhere. But it wasn't until 2006 that he left UNH for Oregon. According to Phil Knight, then-Oregon head coach Mike Bellotti was trying to install the spread offense, and pushed his coordinator to visit Dan Mullen, then-Urban Meyer's top offensive assistant at Florida. Mullen, however, recommended Kelly as the real expert. After some collaboration, the offensive coordinator at Oregon left for LSU, and Bellotti hired Kelly to take his place.
In two years as offensive coordinator at Oregon, Kelly's offense translated beautifully. The team averaged 40 points and over 475 yards of offense. In 2009, Kelly took over as head coach. After his first game, a loss to Boise State, a fan angrily demanded a refund for his trip to the game. Kelly mailed him a check for $439. Of course, it's been all up from there. In four years, Kelly has posted a ridiculous 45-7 record. Before this season, he masterminded three straight Pac-10/12 championships and BCS bowl appearances.
Last offseason, rumors swirled about Kelly jumping to the NFL. He was reportedly close to a deal with the Tampa Bay Buccaneers before he backed out at the last minute. A source close to Kelly told ESPN at the time that the NFL was always at the back of his mind: he was "intrigued by the challenge of coaching at the highest level and not having to deal with parents and the NCAA oversights."
Why Hire Chip Kelly?
The spread offense has slowly infiltrated the NFL over the last decade. Passing long ago overtook rushing as the focal point of offenses and shotgun and multiple wide receiver sets weren't far behind. With better athletes entering the league at quarterback, the read-option may soon join that list. Robert Griffin III, Cam Newton and Colin Kapernick have each already had some degree of success with the spread staple. Meanwhile, one of Kelly's main innovations, emphasizing speed, is now making an appearance in the big leagues. Bill Belichick has consulted with Kelly multiple times, helping to install a more-extensive no-huddle attack in New England.
If you buy the idea that the spread offense will eventually transform the NFL more completely, there's a lot to like about hiring Kelly. Just as Oregon benefited when Bellotti decided to get the expert in house, so might the NFL team that hires Kelly. Perhaps no other candidate is better suited to introducing a "next generation" offense than Kelly. And yet, according to Smart Football's Chris Brown, "Behind the speed, the spread, the Daft Punk helmets, and the flashy uniforms, Oregon ultimately wins with old-fashioned, fundamental, run-it-up-the-gut football."
Kelly runs a tight ship at Oregon, but reports suggest that he would bring along strong teaching and organizational skills as well. An unnamed NFL executive told NFL.com, "He runs the best practices I've ever seen. I would hire him in a second if I ever had the opportunity." The New York Times details how unorthodox his practices are (and includes a note that Super Bowl-winning coach Jon Gruden seriously considered taking a job as Kelly's offensive coordinator just to learn from him). Kelly also hasn't just been the beneficiary of a few strong recruits. This year, for example, he replaced stars like Darron Thomas and LaMichael James with younger players and kept on chugging.
Why Not Hire Chip Kelly?
As high as the ceiling might be for Kelly if he can adapt his offense to the NFL, the risk is great as well. Stanford largely shut down Oregon's vaunted attack a few weeks ago en route to an upset of Kelly's top ranked team. How did they do it? Simple: by dominating the line of scrimmage with a talented, disciplined front four. There are two ways to read that loss. On one hand, if your offensive line gets beaten that badly, you're unlikely to succeed with any offensive scheme. On the other hand, it might be a preview of the difficulty Kelly would have going up against a defense full of NFL starters with his option attack.
In general, this is the danger of hiring any head coach with a particular scheme loyalty. Look at Reid. On one hand, his west coast offense (and in particular, his ability to teach it to quarterbacks) was one of the biggest reasons for his success. But his adherence to a philosophy of "keep firing" was also a detriment. Kelly's offense is a much bigger departure from the norm. If he struggles, is there a backup plan besides firing him and starting over?
Additionally, there's always a danger importing a coach from college to the NFL. Many of the recent success making that transition (Jim Harbaugh, Pete Carroll, Greg Schiano) have had NFL experience. Kelly's resume is especially difficult to project. Not only does he have no experience with the NFL's 53-man roster or dealing with players who are professionals rather than college kids, but he only has a total of four years as head coach, period. Ideally you would recruit Kelly to be a NFL coordinator for a few years first before handing him all the keys, but that just won't be possible.
Final Thoughts
There is no more exciting hire than Kelly. Read up on all his schemes and it's tough not to salivate over that potential. But a lot depends on whether you think he can translate his philosophy to the NFL and adjust to all the other realities that job entails. I still hold reservations on that front, but imagining DeSean Jackson and LeSean McCoy as cogs in Kelly's offense helps me get over them.