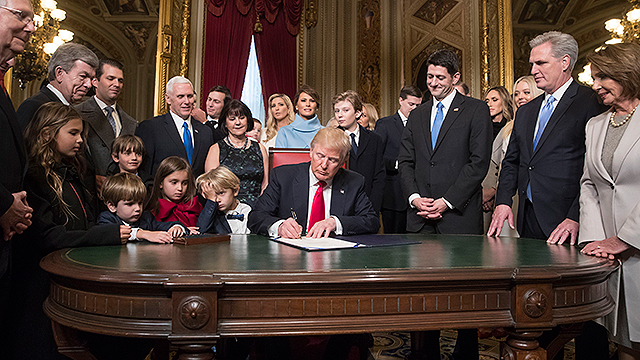 President Trump uninvited the Eagles to the White House on Tuesday night and it didn't take long at all for local politicians to react.
Here is Pennsylvania Senator Bob Casey offering the team an alternative.
I'm proud of what the @Eagles accomplished this year. I'm skipping this political stunt at the White House and just invited the Eagles to Congress. @Eagles How about a tour of the Capitol? https://t.co/niWR7zkSYx
— Senator Bob Casey (@SenBobCasey) June 4, 2018

U.S. representative Brendan Boyle, from Philly, had an even stronger response.
"You even make a championship team visiting the White House all about you," Boyle said, via NBC News. "What is wrong with you? Seriously, what condition do you have?"
Boyle also extended an invite and will apparently be bearing gifts.
The @Eagles are still welcome to visit the US Capitol. I will have @Wawa coffee waiting. https://t.co/Ts41v7GBGn
— US Rep Brendan Boyle (@RepBrendanBoyle) June 4, 2018

Several Eagles, notably Malcolm Jenkins and Chris Long, have been very outspoken regarding criminal justice reform, and PA attorney general Josh Shapiro is offering them another alternative.
The @Eagles are still welcome at my Office - come over whenever:

Strawberry Square
Harrisburg, PA 17102

We'll celebrate your Super Bowl victory and while we are at it we can discuss criminal justice reform or whatever else is on your mind. https://t.co/82G0kkPvdR
— Josh Shapiro (@JoshShapiroPA) June 4, 2018

Copyright CSNPhily