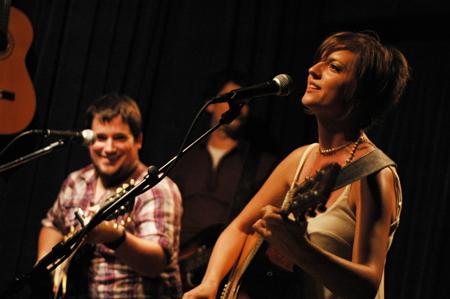 Dawn Iulg: Hear the sounds of Dawn Iulg, Kelly and the Ruths and Ross Bellenoit tonight at the M Room. Iulg was the 2008 winner of the Philadelphia Songwriters Project Songwriting Contest and a finalist last year. She has sold out the Tin Angel and World Café Live with her strong vocal range and delightful sound. Kelly and the Ruths were the winners of last year's Philadelphia Songwriters Project Songwriting Contest. Their sound can be best described as Norah Jones meets Feist. Bellenoit is the third local act to hit the stage tonight with a 70s edgy rock sound. See all three for less than 10 bucks. Manhattan Room, 15 West Girard Ave, Philadelphia, Pa. 19123, +21, $8, 8 p.m.
MASH Thursdays: Music, alcohol, sex and a hangover are what's guaranteed at Mar Bar tonight (Well, almost -- some of that is up to you.) The bar is offering $1 Coors Light and well drinks from 10 p.m. through midnight. If you're more of a vodka drinker, try their $3 Skyy cocktails as you dance to the sounds of DJ Shane Sixteen. For students the entry fee is only $3, all others party the night away with a $5 cover. Mar Bar, 200 South 40th Street, Philadelphia, Pa. 19104, +21, $3-$5, 9 p.m.
Ciroc Launch Party: Who can resist an open bar with brand new flavors of liquor to taste? Tonight, try the brand-new Red Berry and Coconut Ciroc vodka flavors for the first time at an exclusive star-studded event being held at Ms. Tootsie's. Bring your friends and head down to South Street for an open bar in the 76ers VIP lounge and complimentary free admission if you RSVP here. The flavors must be good because, after all, why would Diddy endorse it? Taste it for yourself at 10 p.m. Ms. Tootsie's Restaurant, Bar & Lounge, 1312 South Street, Philadelphia, Pa. 19146, +21, Free, 10 p.m.