Valeria Aponte Feliciano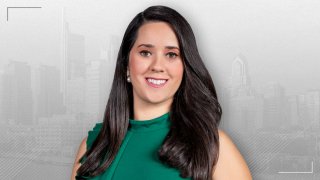 Valeria Aponte Feliciano is an anchor/reporter for Telemundo62. You can watch her live news coverage weekdays.
Valeria joined Telemundo62 in June 2022. She is passionate about being a journalist and feels a strong responsibility to educate the community about their rights, provide them with all the information, give them answers and be transparent.
"I am beyond excited to make Philadelphia my new home," she said. "I can't wait to travel across Pennsylvania, as well as the neighboring states, and get to know the community."
Valeria came to Philadelphia from Arizona, where she was a correspondent for Univision's streaming service, Noticias 24/7. Prior to that, she served as a political journalist for Telemundo Arizona, a video journalist, anchor, and producer for WZDC Telemundo, a video journalist for KGBT-TV, and an executive producer and anchor for CitrusTV Noticias.
Born and raised in Puerto Rico, Valeria is bilingual in Spanish and English. She earned a bachelor's degree in Broadcast Journalism and Fine Arts from the S.I. Newhouse School of Public Communications at Syracuse University. In 2018, she was awarded four Rocky Mountain Emmy awards which included recognition for "Continuing Coverage" and "Journalistic Enterprise." She is a member of the National Association of Hispanic Journalists.
When Valeria is not covering the news, she loves to travel, learn about different cultures, try new foods, and meet people from around the world. She loves cooking, baking, hiking, and going to parks with her dog Mia. Valeria is also a huge fan of The Beatles and Star Wars.
Connect with Valeria!
Twitter: @ValeriaAponteTV
Facebook: @ValeriaAponteT
Instagram: @VAponteFelicianoTV