Vai Sikahema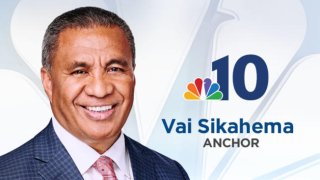 Vai Sikahema is a morning news anchor for NBC10 News Today. You can watch Vai's live newscasts weekdays from 4 a.m. – 7 a.m., and again at 11 a.m.
Vai joined NBC10 in 1994. In addition to his anchoring duties, Vai hosts "Wednesday's Child," a weekly feature promoting the adoption of area children. The feature is sponsored by the National Adoption Center and the Dave Thomas Foundation for Adoption.
Vai has covered every major sports championship including eight different Olympics. He is passionate about breaking news and telling the stories that matter most with his co-anchor Tracy Davidson.
"This is where I've raised my family; I played for the Eagles; our children attended public schools in South Jersey and private schools in Philadelphia," said Vai. "We live here, have friends and family here, we shop, cheer for the local teams and worship here, so what happens in Philly matters to me."
Vai attended Brigham Young University, where he played football and earned his degree in Broadcast Journalism. He is a member of BYU's Hall of Fame and in 2013 was inducted into the Philadelphia Broadcast Pioneers' Hall of Fame. He has earned two Mid-Atlantic Emmy® Awards for his work in local television. In 2011, he received a commendation from the Congressional Caucus of Adoption in Washington, D.C., for his dedication to "Wednesday's Child." In 2012, he was presented the Deseret News President's Award in Salt Lake City, Utah for his weekly column, "Vai's View," which he penned from 2010 to 2012. In 2015, Philadelphia City Council recognized Vai as a "Philadelphia Living Legend" for his work in television and the community.
Vai's broadcast career began when he was with the NFL. He worked at KSAZ in Phoenix while he was with the Cardinals, and with WFRV in Green Bay, Wisconsin during his stint with the Packers. He ultimately ended up in Philadelphia as an Eagle from 1992 to 1994. He was a running back and kick returner for the team, and is ranked first among the NFL's all-time career leaders in number of punt returns and second in punt return yardage. He is also a two-time All-Pro and was twice named the NFL Alumni's Kick Returner of the Year.
Vai grew up wanting to be a professional boxer and spent many years boxing at an amateur level. In 2008 he accepted a challenge from former baseball player Jose Canseco to fight him in a celebrity boxing match. The match was dubbed "The War at The Shore," and Vai won by knockout in the first round. He donated his winnings to the family of Sergeant Stephen Liczbinski, a fallen officer of the Philadelphia Police Department.
A native of Nuku'Alofa, Tonga, English is Vai's second language. He resides in Mount Laurel, New Jersey and is a local leader in the Church of Jesus Christ of Latter Day Saints in Cherry Hill. Vai is dedicated to serving the community and played an active role in helping to secure the property for his church to build the first Mormon Temple in Pennsylvania in Center City.
Connect with Vai!
Facebook: @VaiSikahemaNBC
Twitter: @VaiSikahema
Instagram: @vaisikahema