Bill Henley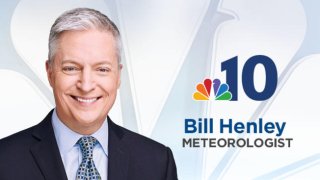 Bill Henley is a meteorologist for NBC10's First Alert Weather team. You can watch Bill's live forecasts weekday mornings on NBC10 News Today from 4am-7am and and updates during The Today Show.
Bill has been covering the Greater Philadelphia area for more than 27 years. In 1995, he began his role as a weekday morning meteorologist when NBC10 News Today premiered. Bill is committed to alerting viewers to changing conditions and preparing them for the day ahead.
Bill has covered a variety of weather events in the Greater Philadelphia area, from severe storms and blizzards to annual events such as Welcome America and the Blue Cross Broad Street Run. He knows how important accurate neighborhood weather forecasts are for viewers every day of the year.
Bill's 39 years of weather broadcasting began at KHSL-TV in Chico, Calif. He attended California State University, Chico, where he studied broadcast communication and meteorology. After graduating, Bill joined KXTV in Sacramento, Calif. He became a chief meteorologist at KNTV in San Jose, Calif., and later moved to WJXT in Jacksonville, Florida.
Bill learned to fly at Northeast Philadelphia Airport. As a pilot, he loves getting a bird's-eye view of the weather. He is also an avid cyclist and enjoys exploring our regions' parks and trails.
Bill supports many local charities such as the ALS Association of Philadelphia, Wings for Success, and Big Brothers Big Sisters of Southeastern Pennsylvania.
Connect with Bill!
Facebook: @billhenleyusa
Twitter: @BillHenleyUSA
Instagram: @billhenleyusa