A Nor'easter expected to drop snow on much of the area on Thanksgiving Eve, one of the busiest travel days of the year, is moving towards our region. The wet weather will move in quickly and possibly be heavy at times.
Rain should begin to fall on much of the area around 4 a.m. Wednesday starting in South Jersey and Delaware before spreading north and turning to snow. By 6 a.m. snow should be falling north and west of Philadelphia, according to NBC10 First Alert Weather chief meteorologist Glenn "Hurricane" Schwartz.
"North and west it's practically all snow," said Glenn.
Thanksgiving Eve Snow: Timeline & Estimated Totals
By 11 a.m. snow should develop along the I-95 Corridor -- possibly falling quickly as wet, heavy snow.
That wet, heavy snow should cling to tree branches, leaves and power lines leading to the possibility of power outages in some areas, said Glenn.
Snow is a good bet for a large portion of the area, said Glenn. The only place that might not see any snow is extreme South Jersey, but even there the rain could turn to snow after nightfall.
"Early season storms can bring a lot of precipitation in a short time," said Glenn. "So amounts could vary even more than our forecast suggests.
Before moving out late Wednesday, the system could drop up to 1 foot of snow in the Poconos and up to 5 inches in the immediate Philadelphia suburbs, said Glenn.
The expectation is that the storm will move out quickly toward the northeast around 8 p.m.
By midday Tuesday, the National Weather Service posted a Winter Storm Warning starting Wednesday morning for upper Bucks, Chester and Montgomery counties as well as all of Berks, Lehigh and Northampton counties and the Poconos. A Winter Storm Advisory is in effect starting Wednesday morning for the southern and eastern parts of Bucks, Chester and Montgomery counties as well as Philadelphia.
You wouldn't think snow is possible as temps hovered in the high 50s with no precipitation during the day Tuesday but come Wednesday morning there will be big changes as the system moves in from the south.
The storm will begin as rain before the morning rush Wednesday then change to mainly snow north and west of Philadelphia -- the line could be along the I-95 Corridor.
The peak of the storm will hit midday with a mix of heavy rain and snow for most of the area. the wet weather could even start as snow the further west and north you get, said Glenn.
That quick changeover midday could cause schools to dismiss early or possibly not open at all if snow begins early enough.
Even though the ground is warm, snow could stick to roadways as temps drop quickly causing snowflakes to drop onto snowflakes. There is also the possibility of power outages as heavy, wet snow could accumulate on trees, causing them to fall on power lines.
Holiday Storm Preparations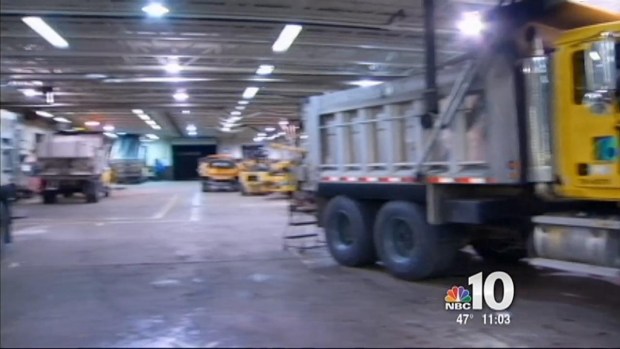 Estimated Snow Totals & Timeline
North & West
Northern and western suburbs - 5 to 8 inches of snow
Poconos - 8 to 12 inches of snow.
4 to 8 a.m. - rain quickly changing to snow
8 a.m. to noon - snow, heavy at times, with slushy accumulation
Noon to 4 p.m. - snow continues, temperatures drop
4 to 8 p.m. - snow tapers off, then ends
Philadelphia & I-95 Corridor
3 to 5 inches of snow expected
4 to 8 a.m. - rainy, cold
8 to 11 a.m - rain changing to snow
11 a.m. to 4 p.m. - possibly heavy, wet snow or a wintry mix, slushy conditions
4 to 8 p.m. - snow ending west to east
South Jersey & Delaware
1 to 3 inches of snow
Less than 1 inch at the Jersey Shore
4 to 10 a.m. - rain, heavy at times
10 a.m. to 4 p.m. - rain, heavy at times
4 to 8 p.m. - brief change to snow mainly in New Jersey
8 to 9 p.m. - precipitation ending
Glenn warned drivers traveling Wednesday to be careful.
"I don't expect any ice of any significance," Glenn said. "Early season storms and late season storms can sometimes change from heavy rain to snow in a matter of minutes. People need to be alert and monitor any changes."
PennDOT is already prepared for the storm with 444 road crews on hand throughout the region. PECO also added extra staff to respond to power outages. Road crews plan to get started early Wednesday morning before the rain changes over to snow. Utility companies are also monitoring outages and will respond as they happen.
AMTRAK and SEPTA officials also told NBC10 they will have extra trains running as a record number of riders are expected. At Philadelphia International, American, US Air and Delta Airlines waived booking fees in anticipation of the storm, causing more travelers to fly out Tuesday night.
Snow to Affect Thanksgiving Travel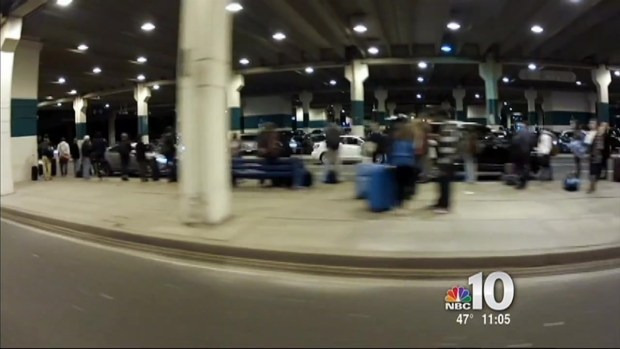 Check with NBC10.com for the latest weather updates.