Storms with heavy wind and rain slammed the area while many people slept overnight. Some snow even popped up in Philadelphia and surrounding areas Sunday morning as powerful winds continued to cause power problems.
Strong Winds Cause Damage Across Region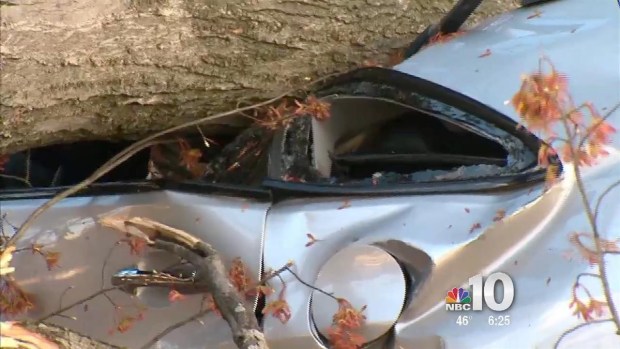 A High Wind Warning was reduced to a Wind Advisory that was in effect until 4 p.m. Sunday for the Philadelphia region, South Jersey, the north and west suburbs, the Lehigh Valley and Delaware. Winds increased rapidly overnight with gusts up to 60 mph, said the National Weather Service.
"These are damaging winds," said NBC10 First Alert Weather meteorologist Sheena Parveen. "The type we see in severe storms."
The thunderstorms that occurred overnight were off the coast before sunrise Sunday but snow showers and snow squalls continued to pop up north and west, said NBC10 First Alert Weather meteorologist Michelle Grossman. A couple inches of snow fell in the highest elevations (Poconos) in the heavier squalls. Otherwise, Sunday was cold with temperatures in the low 40s.
The strong winds -- which continued into midday -- downed power lines leaving at one point more than 50,000 customers in the dark. They also caused damage to buildings -- including a trailer that toppled in Dennisville, New Jersey -- and lead to hazardous driving conditions especially on bridges and elevated roadways.
The nasty weather also caused the organizers of Get Your Rear in gear Philadelphia to cancel the "region's largest colon cancer run" that was set to take place in Farimount Park Sunday morning.
The winds diminished quickly late Sunday afternoon into Sunday evening.
Update: tree fell on a car as I was waiting for fast food. This storm is legit @NBCPhiladelphiapic.twitter.com/lzVO0Kyq2s

— Randy Gyllenhaal (@RandyGyllenhaal) April 3, 2016
So it's hailing while I wait for my hamburger at the drive thru... pic.twitter.com/xBQH3khX7B

— Randy Gyllenhaal (@RandyGyllenhaal) April 3, 2016