A Nor'easter brought snow, sleet and heavy rain to the area on Thanksgiving Eve — one of the busiest travel days of the year — and caused headaches for travelers as they head to their holiday destinations.
Thanksgiving Eve Snow Causes Slippery Road Conditions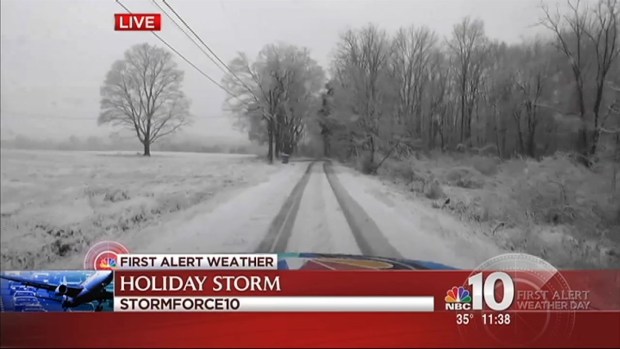 "You won't believe how fast things will change," said NBC10 First Alert Chief Meteorologist Glenn "Hurricane" Schwartz. The heaviest snowfall came midday Wednesday as cold air pushed the rain-snow line past Philadelphia.
The deteriorating and rapidly changing weather conditions prompted Gov. Chris Christie to declare a State of Emergency in New Jersey. The declaration activated the state's Office of Emergency Management.
In Pennsylvania, at least two Montgomery County communities — West Pottsgrove Township and Hatfield Township — declared snow emergencies. The snow emergency will last from noon Wednesday until 5 a.m. Thursday for West Pottsgrove, while Hatfield Township's snow emergency began at 11 a.m.
Loud claps of thunder could be heard around 11:30 a.m. in northern Delaware, including Wilmington, and in parts of southeastern Pennsylvania, like Wayne, Nottingham and Kennett Square.
What started as light rain early Wednesday switched to snow in Berks County and the Poconos — the areas expected to be hit hardest by the fast-moving system — and parts of Bucks, Chester and Montgomery counties started to see snowflakes in the morning.
By midday, people reported seeing snow in Philadelphia, as well as suburbs north and west of the city. Flakes began to fly in Delaware around 3 p.m.
Snow continued to mix with sleet and rain as a warm air line rides up the I-95 corridor throughout the evening.
Another burst of steady snow began to fall in the evening but moved out of the area after 9 p.m.
Temperatures sank to about 30 degrees and gusty winds made it feel even colder outside.
Pre-Thanksgiving Turkey Snow
The expected drop in temperature led Philadelphia's Office of Emergency Management to issue a Code Blue alert. The Code Blue, which began at 7 a.m., means city officials take steps to ensure the chronically homeless have access to a warm place to stay.
As the system continued to head north and east, a distinct line in the Nor'easter distinguished between the areas receiving snow and those seeing rain.
The Lehigh Valley and outlying suburbs saw snow throughout the entire day — with accumulation approaching nearly a foot in the mountains. The system moved out of our area by late evening hours, but the wintry mix caused problems for travelers on the move for Thanksgiving.
Now that the snow is gone, some areas, mainly north and west of Philadelphia, could see some slick spots on roads due to temperatures dropping a few degrees below freezing.
The National Weather Service issued Wednesday a Winter Weather Advisory. The advisory, which began at 9 a.m. and ended at 10 p.m., was issued for Delaware County and parts of Chester, Bucks and Montgomery counties in Pennsylvania; Middlesex and Mercer counties in New Jersey; and Philadelphia.
The advisory warned drivers of slick road conditions. "Anyone with holiday travel plans is urged to check road conditions before leaving," according to the National Weather Service advisory. "More difficult traveling conditions will be occurring farther to the north and west. Wet Snow could also obscure road signs."
Even though the ground is warm, some snow stuck to roadways as temps drop quickly causing snowflakes to drop onto snowflakes. There were also power outages due to heavy, wet snow which accumulated on trees, causing them to fall on power lines.
Check with NBC10.com for the latest weather updates.